Poll
Loading ...
5 Apps We All Use
posted by Liz E. on February 28th, 2015 - 4:05 pm | News
When we're children, parents and guardians go out of their way to remind everyone that we're all unique. Everyone is different, and we all do different things. You're one-of-a-kind. No one else is like you.
As it turns out, when it comes to mobile apps, that's nowhere near true. In fact, a new study shows that 61% of the time, most people are using one of the same five apps. I guess you can be original the other 39% of the time.
So, what apps are we all using? I bet you can name them, but here they are in order of popularity:
Facebook
YouTube
Netflix
Instagram
Snapchat
This information comes from the interim edition of the Ericsson Mobility Report, in which they asked roughly 150,000 Americans what they did on their phones. They also polled people in Spain and South Korea and found that, well, we're all pretty  much doing the same basic things: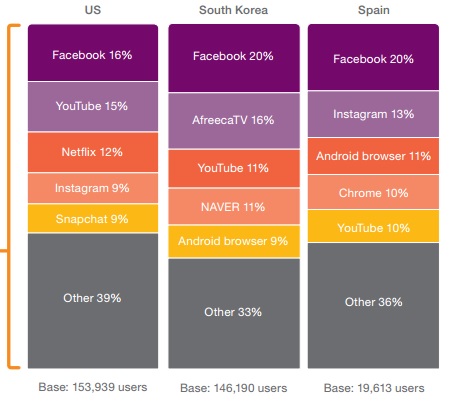 I don't actually use Facebook or Snapchat on my phone, so I have to admit, I'm feeling pretty original right now. But, I am a definite Netflix junkie. How about you? How many of these top five apps do you use? Let me know what you think in the comments!