Poll
Loading ...
Net10 rated "best bang for the buck" prepaid provider
posted by Stuart on July 12th, 2007 - 12:00 pm | Net10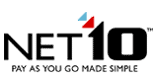 For once, we'll let the press release take the opening paragraph:
Based on its recent analysis of the U.S. prepaid wireless market, Frost & Sullivan recognizes NET10 with the 2007 U.S. Frost & Sullivan Award for "Best Bang for the Buck" Pay-by-the-Minute Prepaid Wireless Plan. Net10 earns this distinction for providing superior consumer value in terms of three critical aspects of any wireless solution – affordability, simplicity, and subscriber certainty for voice calling.

Frost & Sullivan is a market research and consulting firm that's been around since 1961. We're not sure how weighty their awards actually are, but it's neat that they've handed one of them to Net10, one of our favorite prepaid providers.
The competition for this award: Alltel, AT&T, Boost, Tracfone (parent company of Net10), T-Mobile, Verizon, and Virgin. That's quite the crowd to beat.
Apparently, though, this was purely based on Net10's per-minute rate of 10 cents being good all day, every day. Or at least that's how it's portrayed in the press release. We definitely think that there are better considerations for that. Then again, this is a "bang for your buck" award, not an overall service award.
This got us to think: what's the real meaning of this award? They didn't really do much other than browse each companies' websites and determine who had the best per-minute rate. Heck, we do that every week. But you don't see us handing out awards and issuing press releases about it.
Still, though, it's nice to know where you're going to get the most for your money.