Poll
Loading ...
Zact Shuts Down, Virgin Mobile Steps Up
posted by Liz E. on August 11th, 2014 - 9:12 am | MVNO, Virgin Mobile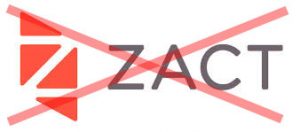 Zact Mobile has officially shut down and, as of last week, is no longer offering any services or support. Former Zact Mobile customers can either choose to switch to Virgin Mobile or simply walk away, free and clear. Zact Mobile was powered by ItsOn, which is now powering Sprint's Virgin Mobile Custom plan. If you're not a Virgin Mobile fan, take a look at RingPlus or FreedomPop, both of which offer similar services and might work for you.
Of course, if you are wanting to make the switch, your Zact phone should have prompted you to download and change to Virgin Mobile's Custom plan last Monday. Early adopters of Virgin Mobile Custom were rewarded with free minutes, texts and 1GB of data. But don't fret. If your phone didn't prompt you to make the switch and you would like to, here's what to do:
Make sure your phone is on so it can start downloading the 'update.' It should download and run automatically, asking you to "install now" or "install later." Make sure you click 'install now' or you will have to find it in the tray later.
You get an error related to the download, close the message box and just wait for it to finish. Make sure you have enough signal to download the update. Once completed, it will say "Zact Update Ready" and you can follow on-screen instructions.
If it still did not download properly (or is showing a 'Welcome to Zact Mobile' message)  try putting your device in airplane mode, then back to normal mode and reboot the device. This should retrigger the download. Once completed, follow on-screen instructions.
If that didn't work, then you should contact Virgin Mobile.
When you switch over, make sure that you have enough funds in your account to add the lines. The cost for each line is $6.98 and it will not allow you to add a line unless you have the $6.98 for each line in your account. You can add new funds to your account from your phone with a debit/credit card or a prepaid card by clicking "payment options" on the home screen of your Custom App. From there, you will need to log in and select "Credit/Debit card management" and then "top-up" and choose your method of payment and follow on-screen instructions.
Virgin Mobile Custom is very similar to Zact Mobile, and customers probably won't notice much of a difference as both Zact and Virgin Mobile utilize Sprint's network. However, since Zact is officially closed down, if you have any questions about coverage or plans you will have to contact Virgin Mobile. Here is their website for more information.