Poll
Loading ...
Why aren't MVNOs working in America?
posted by Joe on May 22nd, 2008 - 12:21 pm | MVNO
Everyone really has a theory on this, so it's tough to come to a solid conclusion. We know the effects: about a half dozen MVNOs have sunk in the past 18 months, and a number of others, including Virgin Mobile and Helio aren't performing as well as they had hoped. Yet we see new MVNOs pop up around the world, and don't hear the same stories of their failure. Why is this? How can MVNOs succeed in one environment, and not another? Once again, we might not be able to solidly conclude the answer, but we can take a look at what some people have to say on the issue.

Issues of competition

An issue at the center of the MVNO debate is that of competition. When I first started learning about the prepaid industry, I was baffled by the existence of MVNOs. Why, I asked, would a network operator sell minutes to a competitor? It didn't make any sense until I read further.
The whole idea of MVNOs is to cover a niche that a large carrier simply can't market to. Tracfone, the first major MVNO in the states, targeted lower income individuals who likely couldn't afford traditional cell phone service. Virgin and Boost Mobile were out to capture the youth audience — who also traditionally have limited budgets.
In the past, the network operators didn't see the potential return on investment of marketing to these segments. So they sold minutes wholesale to secondary operators, who would focus on those neglected demographics. The carriers benefit, because they see some level of return on the MVNO customers, and the MVNOs themselves win because they uncovered a new way to do business in the wireless industry.
Now, though, the competition is getting a bit fiercer. As we approach 100 percent saturation — a subject we'll discuss in a later section — the network operators have to find new markets to draw subscribers from. And, increasingly, they're hitting these niches that the MVNOs once covered. This is evidenced by the four major carriers upgrading their prepaid plans in the past year or so.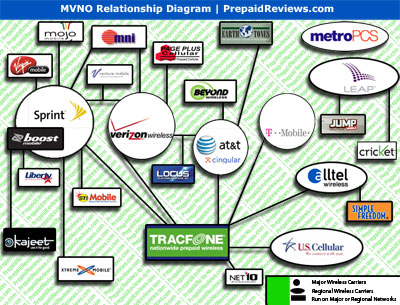 Shooting themselves in the foot
The more I think about it, the more I understand why Amp'd Mobile tanked. Look at the service they were offering. It was a media-rich mobile experience which targeted a higher-end user base. And, at the same time, it targeted youths, who have the most draw to these media functions.
On the youth end, Virgin and Boost had a good corner on the market. True, Amp'd could have come in with a superior service and succeeded that way. The problem is that they priced their services out of the reach of most teenagers.
The other problem, of course, is that the major operators have been figuring out this media thing pretty quickly. High end users have a great number of options when it comes to media on their phones — to the point where they don't need to trust an unknown brand with their cell service (yes, branding probably worked against Amp'd).
So, basically, Amp'd targeted audiences which were pretty much covered already. They failed to differentiate themselves at the outset, though that is quite a difficult task. Verizon, one of their biggest creditors, saw the clear competition between the two, and decided to call in the debt, which it knew Amp'd could not repay. And there went an MVNO.
Confusing plans
Some MVNOs simply offer too many options, which become confusing. Look at Locus prepaid. They offer a number of plans that can fit the budgets of many people. However, if you offer people too many options, it will just become information overload. Unable to decipher which deal is best, they will walk away to another company.
An excellent example of this is Movida, which filed for bankruptcy in early April, and were bought up by the end of the month. Just look at their rates page. It takes some calculating to figure out what plan works best with your calling habits.
True, Virgin Mobile offers a number of options for its pay as you go customers, but they offer assistance in figuring out what plan is best for you. That is a boon to the consumer. They can figure out how much they talk a month, and pick a plan with assistance from Virgin Mobile. There is no such assistance from Movida, or really any other MVNO I can think of. You don't have to tread the customer like an idiot; you just have to make everything clear, including the specific advantages of each of your offerings.
The problem will work itself out
On questions of MVNOs, the first place to look is to Alex Besen, founder of The Besen Group, an MVNO consultant. He might not have the answer, but he can certainly offer a high level of insight. And he thinks that this is a temporary problem.
Currently, MVNOs only comprise seven percent of mobile users in the U.S. Clearly, that number will have to go up if we're going to see more than three or four MVNOs succeed. What is it going to take to see any increase? A greater level of market saturation, says Besen.
The U.S. is projected to see a near-100 percent saturation in three years. This, says Besen, will spur a growth in MVNOs, likely giving them up to 17 percent of the market. This will mean room for more MVNOs, and more importantly, more MVNOs to succeed.
Besen believes that once we hit this level of saturation, MVNOs will become an asset to carriers. It will help them lure people away from other carriers. Having a youth-based MVNO, like kajeet, will allow companies to pick up the new entrants to the market at the earliest possible stage. And their offering of niche MVNOs will help keep them around.
The overall point is that we cannot discount this MVNO business model, which has worked elsewhere in the world, just because a few have failed. When you have a gold rush mentality, clearly there are going to be those who don't make the grade. So once the dust settles, and the saturation rate rises, we should see a number of MVNOs become successful in the United States.