Poll
Loading ...
New MVNO Offers WiFi Only Service
posted by Liz E. on September 11th, 2014 - 4:01 pm | MVNO, Touch Mobile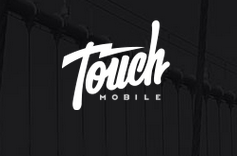 Sprint MVNO TextNow has launched a WiFi-only prepaid brand, Touch Mobile, in the U.S. and Canada. Their slogan and goal is to "get the smartphone experience without the smartphone price." Touch Mobile is the first 100 percent data-based prepaid brand to be available in retail stores. Their store presence is expected to be launched in the next few months.
The idea behind Touch Mobile isn't a new concept–in fact, several other companies like Republic Wireless, Scratch Wireless, Sprint and even T-Mobile allow for WiFi calling. What sets Touch Mobile apart is that they do not offer traditional voice and text options–everything is converted to data. Their plans do, however, allow for 3G and 4G data when WiFi is not available, and their network is designed to allow for smooth transitions from WiFi to 3G or 4G, as it is available.
"Touch Mobile allows people access to an incredible wireless experience that until now was only available if you were willing to sign a contract or pay using a credit card," said Derek Ting, CEO and co-founder of Touch Mobile and TextNow Wireless. "People are throwing money away by paying too much for services they simply don't need. For mobile users across the country, access to the Internet via public and private Wi-Fi networks is becoming easier than ever and that trend is only going to accelerate."
Touch Mobile's lowest level data plan starts at $20 and includes unlimited texts and voice while using Wifi as well as 200 MB of non WiFi data over the course of 30 days. There is a 4 day grace period between the end of one monthly plan and the beginning of the next. If payment is not received after 4 days, the service will be disconnected. Touch Mobile told Fierce Wireless that they are looking into ways to throttle instead of idsconnecting service, but that the feature isn't available currently.
For a full list of plans available, coverage and more information, check out their website.