Poll
Loading ...
5 Top Free Games for iOS and Android
posted by Liz E. on October 31st, 2014 - 8:33 am | Mobile Gaming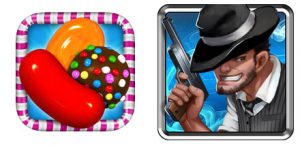 Whenever I get a new phone, the first thing I want to do is load it up with apps and customize it as much as possible. I want to make it mine. There are literally millions of apps that you can download for Android and iOS and quite a fair amount for Windows phone as well. Of course, if you're like me, I don't like paying for apps. With all of the free ones available, it seems like a waste to pay for something, unless it's REALLY cool.
So, for those of you looking for some fun free games, here are some suggestions based on the top five games for Android (taken from Google Play) and the top 5 games for iOS (through iTunes):
iOS
Android
Of course, those are just the top five–there are tons of options depending on what kind of gaming you want. Be sure when downloading them that you're connected to Wifi so you don't use up your data.