Poll
Loading ...
Wednesday App Review: Simple Weather Alert
posted by Liz E. on May 17th, 2017 - 12:40 pm | Mobile Apps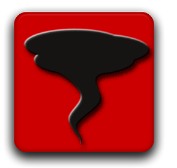 I live in what is charmingly referred to as "Tornado Alley" and while we don't get tornadoes as often as that moniker suggests, having a good weather alert app is absolutely essential here and in many other parts of the country. To that end, the app Simple Weather Alert is one of my current favorite weather apps because, well, it's simple.
I am not much of one to be interested in the complicated weekly forecasts with humidity levels and interactive radar and all those extra bells and whistles. Personally, all I really want to know is if I need an umbrella, if a tornado is coming, and whether I need to go take shelter or not. To those ends, the app Simple Weather Alert is perfect.
The app has a number of settings that you can select to control how often the app updates, how it notifies you, and how the app itself behaves. And, unlike other apps which are cluttered with tons of information you don't really need, Simple Weather Alert really only give you the essential information passed on by the National Weather Service. Alerts are color-coded by severity and provide the exact text from the NWS, so you can better decide how you need to react.
The app itself is free, although there are small banner ads within the application. If those ads bother you, or you just feel like supporting the developer, there is a "Pro" version available for $1.99.
You can download the app from Google Play for free, or get the Pro version here. At the time of writing, there is not an iPhone version. The company does have a Facebook page, however, where users can contact the developer and track updates.