Poll
Loading ...
The ups and downs of incentive-based mobile advertising
posted by Joe on May 1st, 2008 - 11:30 am | Mobile Advertising
What if I told you that you could get paid just to view advertisements on your phone? Is that something you might be interested in? In late 2006, 26 percent of respondents said that they'd be willing to view mobile advertising in exchange for free phone applications. I can only imagine that a greater number would say yes if instead of applications, the incentive was money towards their monthly bill. This is especially so for economic-minded prepaid users, who understand the value of cell minutes. After all, who couldn't use a few dollars to help subsidize their calling habits?

The ups

Incentive-based advertising is something I actually covered in the early days of the Prepaid Reviews blog. The subject was MyScreen Mobile, and I had never heard of their business model. Here's the long and short of it:
You go to their website and sign up for the service. During the signup process, you fill out a questionnaire about your interests. This allows MyScreen to serve you the most relevant ads. Once you've finished, you'll be served an ad after you complete a call. When you view the ads, money is placed into an account, and is paid to you on a prepaid debit card at the end of every month. So just for looking at ads, you can knock down a part of your bill.
Virgin Mobile has an incentive-based program of their own, Sugar Mama. They allow you to earn free airtime minutes one of two ways. You can either watch and rate ads online, where one minute of viewing gives you one minute of airtime. Likewise, you can perform tasks online, where two completed tasks gives you a minute of airtime. So if you're using a ton of minutes in a month, or just want to pay less for your cell service, you can exchange your time for minutes. Sounds like a sweet deal, right?
The downs
With Virgin Mobile, your rights are protected by their privacy policy. They even have a section clearly laying out what they can and cannot do with your information in regards to the Sugar Mama service. In short, no one has the right to redistribute our personal information without your permission. And that makes Sugar Mama a valuable service. Your information is kept private, so you won't be prone to ads you didn't ask to see.
Not so with MyScreen. They advertise the pay-per-view advertising, as well as paid surveys and referral bonuses. However, there is no privacy policy on their page. What does that mean? Maybe nothing. The lack of a privacy policy doesn't necessarily mean that your information will be sold to third parties. However, it does mean that nothing is stopping MyScreen from selling your information to Post-It Perry, the Hobo Office Supply Guy.
When you go to MyScreen's signup page, the first thing you're asked to do is enter your email and cell number. I'm sorry, but I simply would not enter in such information without a privacy policy telling me exactly what's going to happen to my information. I contacted MyScreen for comment, but I wasn't acknowledged. To me, that makes it seem like we should fear the worst when signing up for their service.
Is this a sustainable model?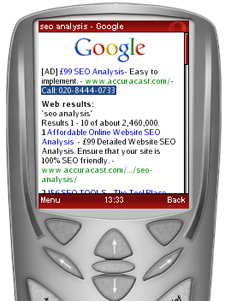 After hearing about services like MyScreen and Sugar Mama, I wondered how this model was sustainable. After all, you don't see many outlets where end users get paid to view advertisements. As with anything this new, I tended to view it through a lens of skepticism. But then I came up with an analogy.
Think about Google's AdSense program. If you publish on the Internet, you can sign up through them and have them serve ads to your site. When visitors to your site click on those ads, you get paid. Google does the legwork in signing up advertisers and ensuring that their ads are served appropriately.
In the incentive-based model, it seems that the end user replaces the publisher. Instead of serving an ad to a website and paying based on the number of clicks, ads are served right to the mobile user, who are paid just for viewing. MyScreen and Sugar Mama, then act as middlemen, like Google.
Of course, the sting here is that advertisers gain more from the pay per click model. They pay for only people who click the ads, but their message is shown to everyone who visits that publication. So their reach extends further than their payout. Whereas when ads are being served to a mobile user, it is them, and only them, who see the ads.
So I'm still skeptical as to its sustainability, but not as much as I was initially. Really, I'm far more concerned about the privacy issues than the lifespan of the business model.
It sounds good, but beware
It's easy to get roped into a deal that seems too good to be true. Yes, being paid to view advertising sounds like a great deal, but when it's at the cost of having your information sold to other advertisers, well, it doesn't sound so sweet. Now does it?
Still, incentive-based advertising is a young model, and could prove viable as advertisers and network operators search for the best way to deliver advertising over mobile phones. Our cell phones are personal, and we simply won't tolerate the kind of advertising we see in print and broadcast media.
But if mobile advertising is going to hit us either way, we might as well get something from it. Right?