Poll
Loading ...
Rumor: MetroPCS to get Samsung Indulge on Feb 23 for $399.99
posted by Joe on January 24th, 2011 - 9:05 am | MetroPCS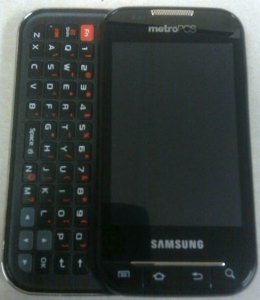 We know that MetroPCS is gearing up for the Samsung Forte, a touchscreen slider Android device that will run on its LTE network. It is a considerable upgrade over the Samsung Craft, which is currently the only available LTE phone for MetroPCS (or for any other carrier, for that matter). It will feature a 1 GHz processor, Android 2.2, a front facing camera, and more. MetroPCS plans to release the device on February 23 for $399.99. They will dub it the Indulge, not the Forte, but you'll probably see both names appear in online forums. Of course, since that's a month away we could see it change between now and then. But that's the good word on the street at the moment.
Via PhoneNews.com.