Poll
Loading ...
MetroPCS getting Samsung Forte Android LTE device
posted by Joe on January 17th, 2011 - 9:42 am | MetroPCS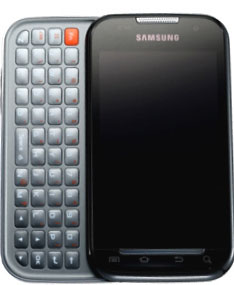 Last week we got a look at the Samsung R910, which appears to be an extension of the Galaxy S line — except it will run on LTE networks. The branding clearly shows that it's headed for MetroPCS. Soon thereafter we got pictures of the Samsung Forte, which is what you see above. It appears to be almost the exact same devices as the R910, except with a sliding keyboard. There is no word on when it will hit MetroPCS, but it appears that before long they'll have both of these Samsung Android LTE smartphones in their lineup. That's going to be pretty big for business.
Via Android Guys.