Poll
Loading ...
MetroPCS expands nationwide roaming network
posted by Joe on October 1st, 2009 - 7:30 am | MetroPCS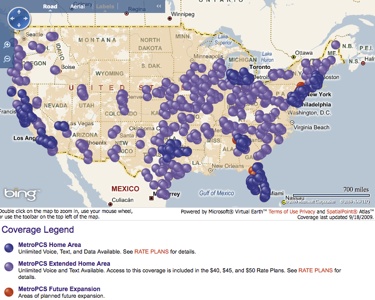 The major disadvantage for MetroPCS is that they're not a nationwide network. They have contiguous networks in a number of regions, but they've yet to connect all the dots for seamless coverage. What they've done to compensate is create roaming agreements with other carriers. They then offer these roaming spots for free to those with plans of $40 or higher. Yesterday Metro announced expanded roaming agreements, which now cover 11,000 cities and towns nationwide. The expansion took place mainly in the Midwest, Northwest, and Eastern US. Unfortunately, customers still need to be in a home MetroPCS area to purchase and activate service.
While it's pictured above, you can view the MetroPCS coverage map here.