Poll
Loading ...
MetroPCS debuts caller ID using directory information
posted by Joe on October 17th, 2008 - 7:06 am | MetroPCS
Caller ID has been around on cell phones since they became huge earlier this decade. However, it has always been limited to the contacts in your address book. Without a listing, all you see is the incoming number, if available. MetroPCS has changed all that. They've announced Screen-it, a program which displays the incoming caller information, including name, even if the caller is not in your address book. No longer will you be scratching your head and wondering: "Who's number is that?" Or will you?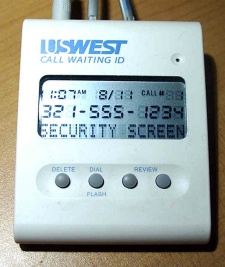 I have to wonder if this will work for cell phone lines. On one hand, I imagine it wouldn't. Our cell phones are not in a public directory, so it would seem difficult to procure those numbers and match them to names for this service. If you only get information when a landline calls you, well, is that really worth it?
On the other hand, in sampling a number of visual voicemail services, I noticed that some of them displayed my friends' cell phone names and numbers when they left me a message. I usually keep their first name or a nickname in my address book, but this gave me first and last. So perhaps there is a way to cull information from a cell phone number, despite the lack of a public directory.
The service will be launched later this month and will be included with "select wireless packages." I'm guessing this means $45, maybe $50 and up. It will also be available as an a la carte addition to a lower plan.