Poll
Loading ...
MVNO kajeet raises $36.8 million in funding
posted by Stuart on September 11th, 2007 - 11:00 am | kajeet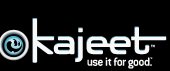 Just when we thought the MVNO was going the way of the Dodo, kajeet stepped in to prove us wrong. The tween cell phone company has announced that it raised $36.8 million in Series B venture capital funding, which will enable the company to continue expansion. Series B funding is the technical term for preferred stock in a private company. Venture capital firm Draper Fisher Jurveston Growth Fund was the largest investor, joined by Bessmer Venture Partners, Fidelity Ventures, and a bunch of other companies you've never heard of.

We've always had a soft spot for kajeet, probably because their customer service is one of the best in the industry. Despite our insistence that your kid does not need a cell phone, there is a certain level of comfort to be had by parents when their kids are a mere phone call away. So yeah, for the early high school kids, we can see this working. It's just when we have fifth graders with cells that we start to cringe.
We also like the business model, which is a strict pay-as-you-go. Parents can load as much or as little money as they want on the phone per month, and the child is confined to those limits. No overages, no hidden fees — unless you count the 35 cents per day access fee, which we'd love to see abolished (even if it means a slightly higher calling rate).
It also has the innovative kajeet Configurator, which allows parents to have more control over when and how their child uses his or her phone. For instance, if the parent wants calls to stop at 10 p.m., they can set that up. Likewise, they can limit the numbers that can be dialed during school hours, and completely regulate text messaging, the number one killer of cell phone bills.
You'll definitely be hearing more about kajeet in the coming weeks. The news of their funding, though boring financial information to some, is a huge step forward not only for the company, but for the dying breed of MVNOs in America. If kajeet and Virgin can prevail, others can mimic their business models and offer Americans even more choices with their cell phone service.
[Phone+]