Poll
Loading ...
kajeet to offer text messaging plans
posted by Joe on January 16th, 2008 - 11:30 am | kajeet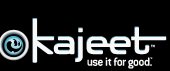 A month or so back, kajeet, the cell phone service for tweens, announced that they'd be offering entertainment services via text message. This was a good step for them. Kids love text messaging, so this just fed their desires. Problem: Texting was still at a per-message rate. And we all know how that can ruin a monthly budget. They're now making things easier, offering two new text messaging packages that will allow kids to send more messages for less money.

This makes kajeet a more attractive option for families with shared lines. Under many instances, it would make more sense for Mom and Dad to add their tween to their family plan, and shell out for a text messaging plan there. But now that kajeet has texting plans, they remain a viable option for families.
For $4.99 per month, you get 200 text messages. If they're all used, that comes out to two-and-a-half cents per message, half their current per-message rate. For $19.99 per month, you can get unlimited texting, which is right in line with what most major carriers are offering.
It all seems to be part of kajeet's plan. They're constantly evaluating where they stand and where they're going, in order to make the best decisions.
[Yahoo! Tech]