Poll
Loading ...
kajeet revamps service plans, adds mobile Web
posted by Joe on November 18th, 2009 - 8:30 am | kajeet
Over the course of this year we've seen not only new prepaid companies, but older companies rolling out new plans to better fit the current wireless market. The latest to update is kajeet, the cell phone service for kids — mainly those in the "tween" ages, between 8 and 12. They've altered their Basic, Great Deal, and Special Plans, and have added to their Bundled Plans, which include unlimited text messaging. Details of the changes after the jump.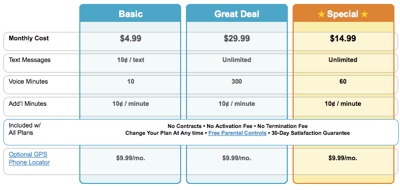 To note the changes above, the Special plan used to include 150 voice minutes, but cost $19.99. The $29.99 plan looks unchanged, though I notice that I didn't have anything about unlimited text messaging in the kajeet review.
The changes to kajeet's Bundled Plans looks a bit more significant.

The $50 unlimited plan actually existed before, as we noted in July, but they hadn't advertised it heavily. There are also add-ons for the Bundled Plans, including packages of minutes, pay-as-you-go options, and text messaging packs. You can visit kajeet's website for more details.
Additionally, kajeet has introduced a mobile Web feature. Parents will have control over this, as they do over all kajeet services. Service costs 35 cents per .25MB — kajeet broke down charges into the quarter megabyte because it is a smaller denomination than most carriers, allowing users to more accurately pay for what they use. The total cost comes out to $1.40 per megabyte, which is a lot for heavy users, though kajeet promises to have bundles available in the future. For a quick reference, .25MB constitutes about 10 mobile Web pages, or two non-mobile Web pages.