Poll
Loading ...
kajeet picking up Disney's pieces
posted by Stuart on October 9th, 2007 - 10:00 am | kajeet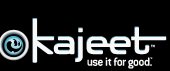 If the execs at kajeet know anything, it's their target market. It shows in all aspects of their business, and that they outlasted Disney Mobile is a testament to their market knowledge. So it comes as no surprise that they're looking to swoop in and snatch the Disney Mobile customers that will find themselves without service by year's end. Their pitch: port your number with a kajeet account by November 10 and receive a $50 airtime credit bonus. The way kajeet's rates work — 10 cents a minute and 5 cent text messages — that $50 could go a long way.

"kajeet has built a robust, totally customizable pay-as-you-go wireless service that super-serves our tween and teen customers and, not incidentally, their parents," said Daniel Neal, CEO and Founder of kajeet. "We have a growing selection of full-featured phones with everything that kids want plus a powerful set of easy-to-use online tools that let kids and parents manage budget and usage together with no long-term contracts, no activation or termination fees, and — most importantly — no surprise bills."
We've already expressed our delight with kajeet, so we clearly favor this move. It's an opportunity to expand their customer base, and they're acting in an appropriately aggressive manner. They're showing Disney customers that they're committed to serving them.
We'll be interested to see what the porting rate is like. It would figure to be high, considering the similar business models and special features.