Poll
Loading ...
kajeet debuts unlimited calling plan
posted by Joe on July 6th, 2009 - 10:00 am | kajeet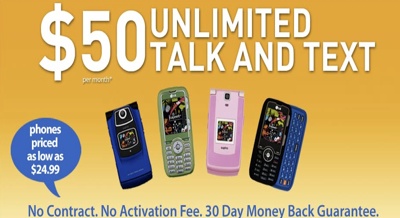 It seems like everyone is adding an unlimited talk and text option to their current repertoires. We saw this earlier today, as Straight Talk, a subsidiary of Tracfone, launched a $45 unlimited plan. Not to be outdone, kajeet is jumping on the bandwagon. Their brand of unlimited offers the best of both worlds: unlimited talk and text for kids — tweens, as we've come to know them — and a comprehensive set of controls for parents. Details on the plan after the jump.
Rather than competing on price, kajeet is sticking with the $50 price which seems to be the industry norm. Instead they'll rely on their appeal to younger folks and their parents. There will apparently be no big marketing push for the plan, but that could change depending on how kajeet does during this trial period.
To sign up for the unlimited plan, you can go to kajeet's website and find a phone that suits you or your tween. Place it in your card, and upon checkout you can select the $50 unlimited plan. Like all kajeet plans, there's a 30-day money back guarantee. This offer lasts until September 30, with all new lines needing activation by October 21.
We're now faced with a chicken or egg question: Are carriers rolling out unlimited plans as a response to pent up consumer demand, or by rolling out unlimited plans are they creating demand? Either way, unlimited plans seem to be working. We'll soon get a better gauge on the situation as companies announce their second quarter adds.