Poll
Loading ...
iPhone 7 Launching on Prepaid
posted by Mary G. on September 26th, 2016 - 11:51 am | Boost Mobile, iPhone, MetroPCS, Virgin Mobile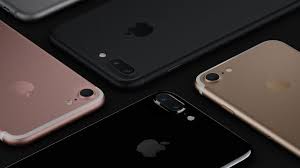 As you probably know, the iPhone 7 was unveiled on September 7. There was a lot of hype, as this is Apple's newest flagship phone, and so far I'd say the launch has been successful. Both T-Mobile and Sprint have reported record breaking sales for the pre-order and T-Mobile has already sold four times more iPhone 7 than it did iPhone 6. Sprint stated that its pre-order numbers were up 375% from last year.
With the instant success of the iPhone 7, it makes sense that T-Mobile and Sprint are allowing their MVNOs to begin advertising the new device. Pre-orders for Virgin Mobile and Boost Mobile will begin on September 23, and MetroPCS simply advertises the phone as "coming soon."
The iPhone 7 has quite a few features that make it stand out, but the one that has gained the most attention is the lack of a headphone jack. The iPhone 7 will now come with "AirPods" which are essentially wireless headphones. They only require a one tap set up, and after that connect automatically. The AirPods can sense when they are put in your ears or taken out, and pause or play accordingly. Instead of using your phone for music controls, you just double tap an AirPod to talk to Siri.
Let's take a look at the other specs:
4.7 inch screen
1334 x 750 HD resolution with retina display
IP67 Rating
12 megapixel rear camera
7 megapixel front camera
A10 processor chip
iOS 10
2GB RAM
1960 mAh battery
The phone will be available with 32, 128, or 256 GB with five color choices: rose gold, gold, silver, black, and jet black. None of the MVNOs have prices listed for the iPhone 7, but full retail price from Apple ranges from $649 for the 32GB to $849 for the 256GB. Make sure to check back for more info!