Poll
Loading ...
Apple sells millionth iPhone, readies for spectrum bid
posted by Stuart on September 11th, 2007 - 9:00 am | 700 MHz spectrum, iPhone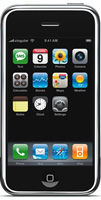 Gadgetry is running rampant. Just 74 days following its June 29th release, the iPhone is now a million strong. Apple says it sold the millionth device this past Sunday, exceeding many expectations of sales. This is especially significant because of the time it took to sell one million iPods, which is a far more universal device than the iPhone. It took nearly two years to get a million of the MP3 players off the shelves, though they probably do that monthly now. Even though this is a weighty accomplishment for Apple, the news from the company doesn't start there. It appears, though it is completely unconfirmed, that Apple is mulling a bid in the impending 700 MHz spectrum auction to be held this January.

Strangely enough, this comes on the heels of Steve Jobs's keynote speech announcing the new iPods, which some say was very anti-carrier. Perhaps Apple feels that the only way the iPhone will see its full incarnation is if Apple owns the network on which it operates. Either that, or they hate the industry so much that they're willing to compete in it.
According to some, such a bid wouldn't make much sense. Apple's software and hardware business is much more profitable than a mobile phone one would be, considering the entrenched competition. It would first take billions to secure the bid for the network, and then billions more to set it up and make it operational.
The people at Machinist say, and we tend to agree, that Apple would be better off spending that money on research and development for new iPods and like devices. The research and development would not cost as much as the creation of a new wireless company, and it would leave Apple doing what it does best, rather than foraying it into a foreign industry.
Either way, it appears all is well for Apple in the wireless world, AT&T or not.
[Information Week]
[Machinist]