Poll
Loading ...
Apple Owned Holiday Smartphone Market
posted by Liz E. on January 1st, 2015 - 8:39 am | iPhone, News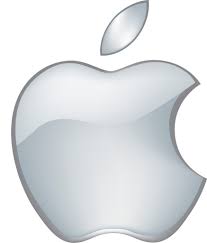 Studies show that if Santa brought you a cell phone for Christmas this year, it was most likely an Apple product. Of course, with the recent release of the iPhone 6 and the first ever iPhone phablet, the 6 Plus, I suppose it shouldn't be surprising that holiday shoppers flocked to Tim Cook's doorstep to complete their shopping lists. Apple probably has one of the most dedicated followings of any tech company in the market today, and it certainly shows.
Flurry, an analytics company headed by Yahoo! released a report based on activations and new app downloads from December 19 – 25, and as it turns out, Apple won by a landslide. Here's the graph: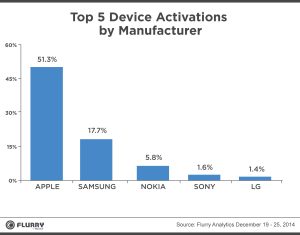 With 51.3% of all smartphone activations, Apple was the top with Samsung trailing behind at just 17.7%. Nokia managed tos crape up 5.8% through their Lumia devices, and the other manufacturers are even further behind. So, to put that even more in perspective: for every Samsung device that was activated this holiday season, Apple activated 2.9 devices. For every Microsoft Lumia device, Apple activated 8.8 devices.
It should be noted, of course, that December 25 is not a major shopping season in China, where huge companies like Xaomi and Huawei are extremely popular and normally can give Apple a run for its money. From what I understand, these graphs are really only for the United States. Still, it's pretty impressive. I might not be much of an Apple fan, but apparently I'm in the minority there.