Poll
Loading ...
H2O Extends Double Data Promotion, Adds 50% Off Promo
posted by Liz E. on May 4th, 2017 - 12:45 pm | h2O Wireless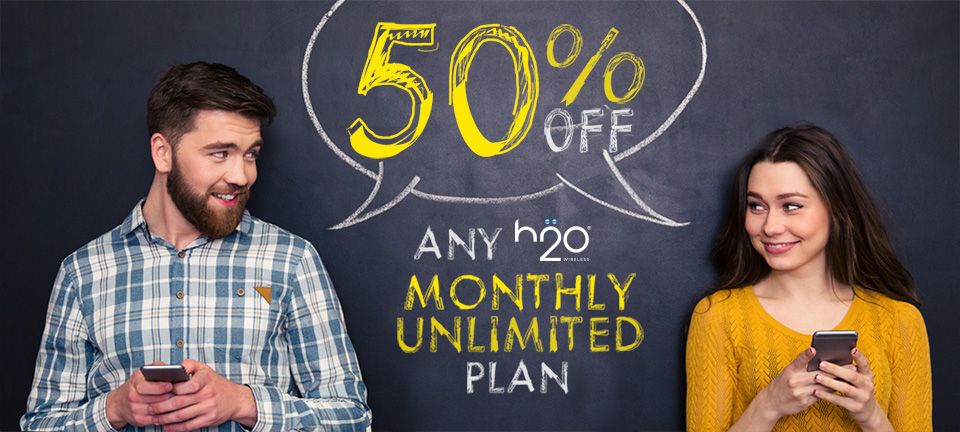 H2O Wireless, an AT&T MVNO recently extended one of its more popular promotions and introduced a new one that now makes H2O one of the best values in the AT&T MVNO business.
The extended promotion, which was first introduced in January, grants users double the high speed data. Currently, the double data promotion is set to expire at the end of May.
However, it's the new 50% off promotion that is garnering all of the attention and catapulting H2O Wireless to one of the current best values for AT&T MVNOs. With this promotion, which has no advertised end date, new activations and port-ins can get 50% off the first month of service. And best yet, both of these promotions stack, which means that you could effectively get some pretty crazy deals like 12 GB of data for $30.
Here's the current list of H2O plans (without the 50% off promotion) to compare. As a note, all plans include unlimited talk and text, unlimited international talk to select countries, and unlimited 2G data:
$30 – 3 GB data (previously 1 GB)
$40 – 8 GB data (previously 3 GB)
$50 – 10 GB data (previously 5 GB)
$60 – 12 GB data (previously 6 GB)
H2O Wireless also offers a 10% discount when customers sign up for auto recharge, although I'm unsure if that will stack with the 50% off promo for the first month. Regardless, the pricing plan (especially with the 50% off) is pretty attractive.
H2O allows customers to activate their own devices or purchase one through H2O Wireless. It also offers a variety of phones, although many are higher-end devices.
For more information on H2O Wireless, or to take advantage of these promotions, visit the H2O Wireless website.