Poll
Loading ...
LG G Stylo Hits Cricket Stores
posted by Liz E. on August 18th, 2015 - 8:01 am | Cricket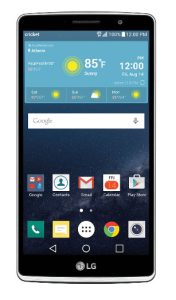 Big phones are all the craze now, but there aren't really all that many large form devices for the prepaid market. However, if you're in the market for a phablet, then the 5.7 inch LG G Stylo might just be up your alley. As the name suggests, the phone itself has a hidden stylus which slides in the phone and LG's signature back buttons for navigation. Seems like an odd combo, but as a fan of LG's back buttons I think it could be pretty comfortable.
As far as specs go, this phone is, as most prepaid phones tend to be, in the mid range with some slight lag but still pretty good functionality for the market and price. Here are the specs:
 Android Lollipop 5.1
1.2 GHz quad-core processor
1 GB RAM
8 GB internal memory
microSD slot up to 32 GB
8 MP back camera
5 MP front camera
4G LTE compatible
Bluetooth, Wifi, GPS, hotspot capable
The device has hit Cricket stores nationwide as well as the Cricket website. You can pick it up for $199.99 right now.
Cricket Wireless is an AT&T company which specializes in prepaid, no-contract wireless phone services using AT&T's network. Plans start at around $25 per month ($40 if you want data) and offer unlimited international texting and unlimited roaming in Mexico. For more information on Cricket Wireless plans and phones, visit the Cricket website.