Poll
Loading ...
Cricket will launch Kyocera Kona on April 21
posted by Joe on April 17th, 2013 - 11:27 am | Cricket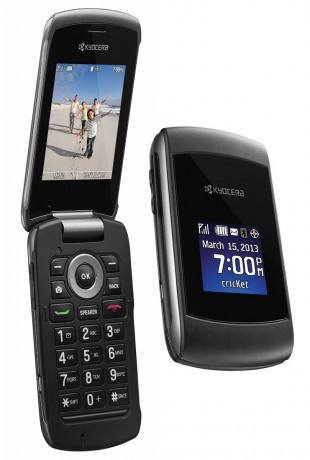 What you see there is the Kyocera Kona, the latest flip phone to hit Cricket. While the company has, rightly, focused on its Muve Music service on Android smartphones, the Kona serves a portion of the prepaid market that is increasingly neglected. While prepaid carriers are trying to increase ARPU and other performance metrics with smartphones, many prepaid customers use those services because of simple, low-cost offerings. We recently saw Boost Mobile announce a similar — and perhaps identical — offering with the Kyocera Coast. For Cricket, the Kona will come out this Sunday, April 21, and will cost $60. That might sound like a lot for a basic flip phone, but sometimes that's the price you pay for no-contract service. Boost's Coast is half the price, though.
Via Phone Scoop.