Poll
Loading ...
Why prepaid minutes come with an expiration date
posted by Joe on September 26th, 2008 - 7:30 am | Consumer Issues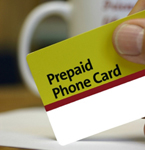 When you look through our prepaid cell phone reviews, you'll notice a section titled "Earliest Minute Expiration." Yes, when you buy prepaid minutes, they're not yours forever. Some might be outraged at this, arguing that this is just another way the cell carriers squeeze every last penny out of you. However, like most prepaid consumer issues, the carriers have a perfectly good explanation. We turn to Christina Tynan-Wood of InfoWorld, who spoke to Virgin Mobile about the issue.
"We do this because of the cost of maintaining accounts that are no longer active," explains Corinne Nosal, a spokesperson for Virgin Mobile. "Our research tells us that people who have no activity on their account for over 90 days are no longer using the phone. Other companies have this same requirement." She points out Virgin Mobile customers also have the option of buying service by the minute: You can pay $6.99 a month and 10 cents a minute. The $6.99 a month fulfills the top-up requirement. Or you can pay $90 and have a year to use the money in the account. "If toward the end of the first year, you still have $45 in your account, for example," she explains, "top-up with $90 and the $45 will roll forward. You now have a balance of $135 in your account against minutes for the second year."
Nosal hits one of the saving graces of the expiring minutes practice. If you add more money to your account, all of your minutes expire at the new date, not your old one. So if you have 500 minutes that expire in two days, you can top up and extend the expiration to a new date.
Tynan then finds the further inefficiency in this: what if you just want the phone for emergency purposes? Wouldn't it make sense to have a special program for these users? I suppose that since they don't bring in much revenue, and actually bring down a company's ARPU, they wouldn't be too keen to that from a business standpoint.