Poll
Loading ...
UPDATED: Republic Wireless Updating Servers
posted by Liz E. on November 20th, 2014 - 10:36 am | Consumer Issues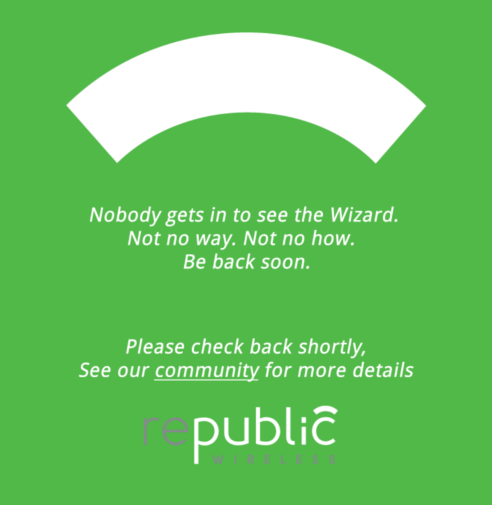 Update: The website is back up, and all issues should be resolved!
Early this morning, Republic Wireless took down their site for maintenance, and put up the above humorous placeholder denying access and rerouting consumers to their community help forums. Turns out the Wonderful Wizard of Republic Wireless is actually doing some maintenance on their site and portal and, as of this writing, an ETA for the fix has not been announced.
From what I have gathered, the maintenance issue is related to moving consumers using DEFY XT phones to a new server, and was scheduled to go from 4 a.m. to 8 a.m. EST. As of right now, the maintenance on moving the phones to a new server is complete, and owners of DEFY XT phones need to restart them to ensure that it takes. For a list of what was updated, click here.
I haven't heard of any actual interuption to services, so if you're not a DEFY XT user and just want to know when the site will be back up, you can keep track of it by checking this page for updates. Republic Wireless has a pretty good track record for getting issues taken care of in a reasonable amount of time, so I expect it won't be too long.