Poll
Loading ...
Prynt Case Blasts Through Kickstarter Goals
posted by Liz E. on January 28th, 2015 - 4:05 pm | Cell Accessories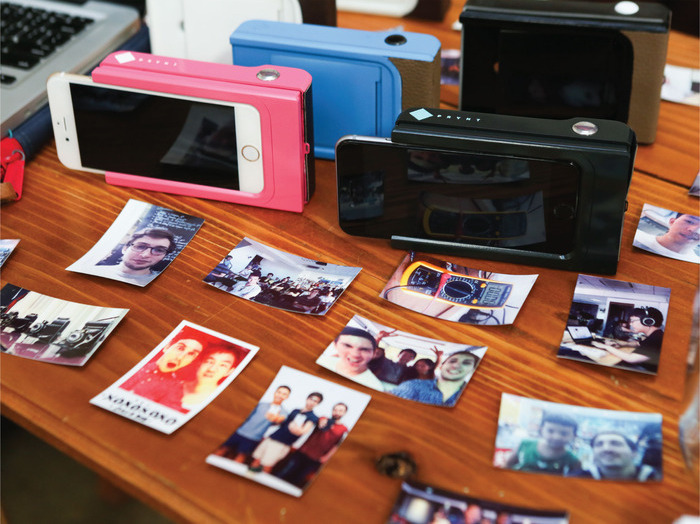 They say a picture is worth a thousand words. But that doesn't really mean anything if the picture in question is trapped on your phone or on the internet. Sure, you could go to a print kiosk and print off that picture for a few cents, but who wants to go through all that hassle? Well, Prynt understands your dilemma and is creating the perfect solution: The Prynt Case.
This smartphone case is the first of its kind. Similar to a Polaroid camera, this case can instantly print any photos on your smartphone. But, while that is cool; it doesn't seem all that impressive. Fortunately, that's not all the case and its app can do. With the accompanying Prynt app, you will be able to capture videos and share them via your printed pictures using augmented reality. Basically, you can scan the photo with your app and the related video will play on the face of the photo, essentially allowing you to hand away memories and videos to your friends and family. It's a pretty cool idea.
Here's a video from the company showing the case its uses:
There are a couple of catches to this case however. The first is that it's currently only compatible with a handful of phones including the iPhone 6 and Galaxy S4. The creators have stated that they hope to add additional phones eventually and with all of the funds they have raised, I expect that  it will be sooner than later. The paper that is required for the pictures costs about $0.50 per sheet, and includes all of the ink so while you won't have to worry about ink cartridges, that seems a little pricey to use for anything other than special occasions.

Regardless, the public response to this new project has been astounding (as you can see in the widget to the right), so I would say the risks are pretty small compared to other tech Kickstarters. The crowdfunding campaign launched around 7 a.m. yesterday and within 33 minutes, Prynt had reached its $50,000 goal. By noon, the figure was doubled, and it's been growing exponentially ever since. Looking at all it can do, it's not hard to see why.
If you want to donate and nab yourself one of these flashy devices, the Kickstarter is expected to run until March 3. While all of the 'early bird specials' have been gobbled up, you can still preorder one of these babies for about $100 on the Kickstarter page. You can also preorder and get more information on their website.