Poll
Loading ...
Connected Smartphone Mount on Kickstarter
posted by Liz E. on December 27th, 2014 - 12:19 pm | Cell Accessories
I'm not really much of a cyclist, but this kind of makes me wish I was. But I bet some of you are, so I wanted to tell you about this really cool Kickstarter that will be ending this week with more than $100,000 above its goal. Called Cobi (short for Connected Bike), this system is designed to bring a streamlined connected car style experience to your ride. And it looks pretty snazzy too.
There are two different parts to the Cobi system: the Hub and the software. The Hub, as the above image implies, not only includes a pretty slick smartphone case and mount, but also includes a headlight for driving at night, bake and turn lights to help provide more safety on the road and a thumbstick that will allow you to control your music and various other functions wit the touch of a single hand. No need to try and balance with one hand off the handlebars. Oh, did I mention it looks cool? Check it out: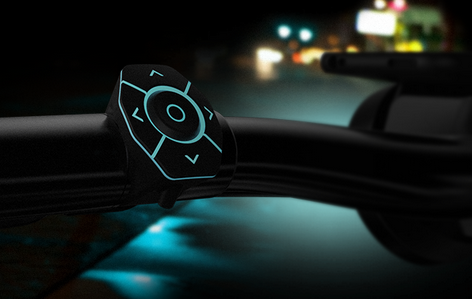 The smartphone software that works with Cobi is minimalistic and designed to have everything you need at a glance, so you don't have to take your eyes off the road. It looks pretty nice, but it is a little pricey. You can pick up the super basic set for around $145 but with add-ons, you could spend as much as $500. I guess it depends on how dedicated of a cyclist you are. You can check out the Kickstarter for additional information, but it ends soon so if you want it at a discount, don't wait!