Poll
Loading ...
Total Call Mobile
October 7th, 2014 | Total Call Mobile | No Comments
Total Call Mobile is really a jack of all trades. They offer both prepaid and postpaid services and also do the Lifeline program, where the government will pay to provide free cell phones with limited minutes and unlimited 911 access to families and individuals that meet certain criteria.
Total Call Mobile was launched by Total Call International in 2006 with the goal of reaching both English and Spanish speaking residents. Parent company Total Call International has been in business since 1999. Total Call Mobile uses Sprint's network and their coverage map can be found here.

Read the full article →

August 31st, 2009 | Total Call Mobile | 6 Comments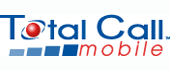 See that list to your left of our pay as you go cell phone providers? It seems like more and more of them have unlimited plans every day. (You might notice that there are a few more there this week than there were last, if you're the perceptive type.) The latest to unveil this type of plan is Total Call Mobile. Like a few of the more recently introduced unlimited plans, Total Call's will feature both a monthly tier and then a lesser offering. This lesser offering might be the difference prepaid makes with unlimited voice and text plans.

Read the full article →

July 16th, 2009 | Total Call Mobile | 3 Comments
Is the market for international calls growing? After all, we did see MetroPCS introduce an unlimited international plan for $5, and it was met with much fanfare. Plenty of other carriers boast about their low international rates. Yet there is one provider which has a focus on international calling: Total Call Mobile. Their bread and butter is a low set of international rates. It gets better, though, as they recently announced free international calling to over 250 locations worldwide.

Read the full article →