Poll
Loading ...
Prepaid Services
November 16th, 2012 | Prepaid Services | 1 Comment
This was bound to happen sometime. A recent report shows that small prepaid carriers did quite well in the third quarter, increasing their subscriber totals by 23 percent. Where did those customers come from? While there are many sources, a large portion might have come from large carriers' prepaid programs. Those numbers slipped 12 percent — and that's including T-Mobile's 365,000 prepaid adds, the great majority of which were with the main brand. The swing was great, indeed. Now that prepaid has become something of a mainstream option, consumers are starting to see the benefits of contract-free cellular.

Read the full article →

July 16th, 2012 | Prepaid Services | 2 Comments
Contract carriers want us to sign our lives away. For some consumers maybe it makes sense to make a two-year commitment in exchange for a $200 or higher discount on a smartphone. But why in the world would anyone commit to two years for a mobile broadband connection? It seems like a long commitment for a service you might not use all the time.
Today Cricket updated its mobile broadband pricing. (Via FierceWireless. This type of prepaid mobile broadband connection is best utilized with a portable hotspot. Here's why.

Read the full article →

June 19th, 2012 | Prepaid Services | 2 Comments
While one period does not represent a trend, we saw an interesting shift in the U.S. cellular market during the first quarter of 2012. Via Ars Trechnica, for the first time ever the number of postpaid subscribers declined. It was a mere 52,000, and the top carriers managed to add customers. But that's a net loss overall. At the same time, prepaid has continued to add, now constituting 25 percent of the overall mobile market. While this might seem strange in the moment, it has actually been a long time coming. In fact, we heard a prediction along these lines four years ago.

Read the full article →

June 7th, 2012 | Prepaid Services | No Comments
For as long as cell phones have been in the main stream, we've had plans featuring buckets of minutes. It was revolutionary, in fact, when Sprint moved to an unlimited calling scheme a few years ago. Others followed suit, but their plans are quite expensive. Yet voice usage has declined lately, leaving carriers scrambling for ways to retain revenue. Their idea, according to a Wall Street Journal report (via FierceWireless), is to replace minute-limited plans with a single unlimited tier. If that sounds familiar, it's because many prepaid carriers currently employ the same tactic when it comes to voice.

Read the full article →

May 29th, 2012 | Prepaid Services | 7 Comments
I was away on vacation last week, and due to a few technical issues we couldn't get Pam, who contributes to the site, to fill in. Oh well. We did miss a few things in the last week, so let's run them down bullet-point style. We'll be running at normal capacity, starting about nowish.

Read the full article →

May 4th, 2012 | Prepaid Services | 1 Comment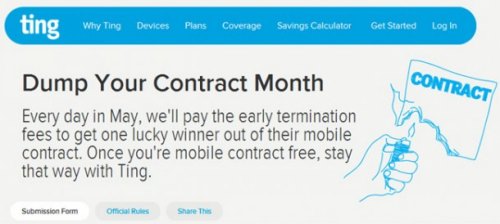 The above photo is a promotion from Ting, an MVNO of the Sprint network. Each day this month they're going to pick one person and let him or her out of a postpaid mobile phone contract. All you have to do is visit Ting's Dump Your Contract Month site and fill out the form. Each person is limited to one entry per day, and Ting will pay any early termination fee of up to $300. That's a pretty sweet deal. After reading the official rules, it doesn't appear that the winners are obligated to purchase Ting's prepaid wireless services. Though, if you're out of your contract you might consider it. They have some interesting deals.

Read the full article →

April 20th, 2012 | Prepaid Services | 3 Comments
With AT&T announcing new GoPhone data pricing, it's time to take another look at what the big four carriers are offering in terms of prepaid data. The industry is obviously growing, and big carriers are catching onto that. Even Verizon has grown savvy; next week they'll unveil an $80 smartphone with a new data plan. So, which one of T-Mobile, Sprint, AT&T, and Verizon provides the best deals for consumers?

Read the full article →

April 3rd, 2012 | Prepaid Services | No Comments
When we post news of a new phone release from a prepaid carrier, there's a good chance that it's a smartphone. That's for a few reasons. First, low-end phones don't get as much play. You don't see a press release or an Engadget post when Tracfone adds a new low-end phone to its lineup. Another reason, though, is that prepaid carriers are simply carrying more smartphones. They're making inroads, too. According to a research report from Stevenson Company, 29 percent of prepaid phone purchases in 2011 were smartphones.

Read the full article →

January 10th, 2012 | Prepaid Services | 4 Comments
As with all things in life, 911 services cost money. While our general tax dollars help fund 911 dispatch services, there's also a specific tax on your phone bill that funds 911. This has extended to postpaid cell phones, wherein each phone line is charged an e911 fee. This helps fund not only the dispatch, but the technology necessary to locate users. Until recently, prepaid wireless users were exempt from this tax. There was just no easy way to assess it. A few years ago, however, some state legislatures decided to begin charge e911 fees. This comes at the point of sale of prepaid refill cards. It's pretty easy to see, even with scant description, why this is unfair.

Read the full article →

November 8th, 2011 | Prepaid Services | 2 Comments
The day has finally arrived. Last week we heard about Republic Wireless, a service that advertised a deal that seemed too good to be true. For $19 per month they advertised unlimited voice, text, and data. They are technically an MVNO of the Sprint network, but their business model centers more on WiFi connections than on cellular signal. That is, when you're connected to WiFi all of activity gets routed through that signal rather than the cell network. It's an interesting proposition for sure, but we've seen deals like this in the past. Can Republic hold up as a viable service? Here are the details.

Read the full article →

November 2nd, 2011 | Prepaid Services | 1 Comment
Republic Wireless, a new MVNO operating on the Sprint network, plans to make a splash when it launches next week. Like many other MVNOs, they'll offer monthly unlimited talk, text, and data services. Their edge: a price that no one currently approaches. They'll charge just $19 for the service, effectively cutting in half the current best plans on the market. We've seen this before, of course, so it's natural to question whether Republic Wireless will take the market by storm or it will bust.

Read the full article →

July 1st, 2011 | Prepaid Services | 1 Comment
The 700MHz spectrum auction, which we covered heavily at the time, didn't figure to produce many new carriers. The big guns, as expected, grabbed the bulk of the airwaves, leaving very little for newcomers. One of them was Cox, the cable provider. it appears, though, that it's using its MVNO agreement with Sprint more than its own network. As FierceWireless's Mike Dano reports, Cox plans a prepaid offering in the future. It's not known how widely they'll roll out and market the service — in fact, little is known at all. But it's coming, and from the sound of the quotes it won't be too far off.

Read the full article →

June 28th, 2011 | Prepaid Services | 3 Comments
We've seen many states adopt laws that charge prepaid users fees for 911 services. It seems fair enough. Prepaid customers use 911 services just like postpaid users, and postpaid users have a 911 fee added to each month's bill. The problem comes when trying to assess who pays and who does not. Ideally everyone would, but states simply do not have that type of jurisdiction. As with many other states that have implemented 911 fees for prepaid users, Georgia will add a fee at the point of sale, amounting to 75 cents per card purchased. Unfortunately, that doesn't address the entire issue.

Read the full article →

April 5th, 2011 | Prepaid Services | No Comments
When we started this site, and even when we started the blog, pay-as-you-go was the primary focus in prepaid. Monthly plans were the domain of the postpaid carriers, and while many prepaid services offered monthly plans, it always seemed as though pay-as-you-go was more popular. That, apparently, has changed. Phil Goldstein of FierceWireless reports on a J.D. Power and Associates study which shows that 49 percent of prepaid users are now using monthly plans, up from 30 percent in 2008. Why the change?

Read the full article →

November 10th, 2010 | Prepaid Services | 2 Comments
There's an interesting read at TheStreet.com about how prepaid cell phone services sold at Walmart — namely Straight Talk — could be a viable option for small businesses. The author notes that the addition of two smartphones to the Straight Talk lineup put the company on small businesses' radars. Still, it's not an ideal solution. As the author says, " Just don't ask it to be a legit smartphone with all the attendant apps and fancy features." How much, then, can handsets such as the Nokia E71 help small businesses? By providing an incremental step up the technological ladder at a reduced price?

Read the full article →

November 8th, 2010 | Prepaid Services | 3 Comments
We've seen this trend going for the past year, maybe year and a half. People are switching from postpaid to prepaid. We see it in the quarterly earnings reports, where a number of companies — notably Sprint and T-Mobile — are seeing bigger prepaid adds than postpaid. We're also seeing both Verizon and AT&T with growing MVNO subscribers. We could see more in the future. According to a recent survey, 20 percent of wireless customers will swith to prepaid within the next six months. That seems like an awfully large number, but it's not one the prepaid sector should bank on.

Read the full article →

October 25th, 2010 | Prepaid Services | 1 Comment
Overall the third quarter did not end well for Verizon. The nation's largest wireless carrier added just under a million customers while its biggest rival, AT&T, added nearly 1.5 million. One big swing comes from carrier-branded prepaid additions. Verizon lost 137,000 prepaid subscribers, while AT&T added 321,000, a swing of 458,000 subscribers. Where Verizon gained was in subscriptions from resale partners. Verizon added 550,000 resale partner subscribers, while AT&T added 406,000.

Read the full article →

October 12th, 2010 | Prepaid Services | 4 Comments
Things are changing in prepaid, especially for major carriers. For them, prepaid used to be an afterthought. They all offered plans, mainly to capture value at the margins. But now that prepaid wireless services have gained some steam, the big carriers are starting to pay attention. We've seen each of the big three — Verizon, AT&T, and T-Mobile — revamp their plans in the past few months. We've also seen Sprint make major strides with its two prepaid brands, Boost Mobile and Virgin Mobile, and also add a third, Common Cents. But how do those offers stack up against one another?

Read the full article →

October 5th, 2010 | Prepaid Services | 1 Comment
In the American telcom industry — or at least the media covering it — the acronym MVNO is viewed negatively. Everyone thinks back to the spree in the mid 00s and how so many of them failed. ESPN Mobile, Disney Mobile, and Amp'd Mobile just headline the list of virtual operators — those that buy minutes wholesale from major carriers — that closed shop. But if you look around, there are plenty of MVNO success stories. In the future there should be more. Back in 2008 I talked to Alex Besen of the Besen Group on the Prepaid Podcast. In it he predicted that MVNOs would succeed more when the wireless penetration rate plateaued. He's looking more right on that. Now he's made another prediction about the US MVNO market.

Read the full article →

September 28th, 2010 | Prepaid Services | 2 Comments
We spend most of our time touting prepaid services for their advantages, which are numerous. But as with all services, there are downsides. It wouldn't be fair to play up only one end the of the issue, so today we'll turn to Bill Snyder of CIO to discuss eight "gotchas" in prepaid wireless plans. Most of these are pretty basic, and a few of them are downright moot. But it's worth the read, especially if you plan a switch to prepaid. After the jump we'll go over a few of them.

Read the full article →

September 1st, 2010 | Prepaid Services | No Comments
Some days the news brings one item remotely related to prepaid wireless. Other days we're flooded with news. That has been the case lately. Here's a rundown of all the stuff we haven't yet covered today.

Read the full article →

August 2nd, 2010 | Prepaid Services | No Comments
In the past few years we've seen a number of carriers start offering data services, including some that go so far as to offer smartphones, including the BlackBerry. You can get a BlackBerry with three of our featured pay as you go cell phone providers, MetroPCS, Boost Mobile, and Virgin Mobile. We cover these plans in a new feature, Prepaid BlackBerry Options, which you can find under the Consumer Corner section of our sidebar. We'll add Cricket wireless later this month after they make the Curve 8530 available.

Read the full article →

July 1st, 2010 | Prepaid Services | 1 Comment
Last week, when we learned that Virgin Mobile would release a prepaid mobile hotspot, it really highlighted their data plans. They're some of the best plans you can get on a prepaid basis. But it also made me think about the state of prepaid phone data. Virgin's Broadband2Go plans are meant for use as laptop cards, not smartphone data. Unfortunately, prepaid data plans are tough to come by, as I've been reminded by many recent emailers. So which carriers do offer decent data plans?

Read the full article →

June 29th, 2010 | Prepaid Services | No Comments
Sometimes as I'm going through my various sources I'll come across some truly interesting stories. Most of the time these either aren't completely pertinent to the prepaid realm, or otherwise don't warrant their own posts. Today, in the absence of hard news, I thought I'd compile a few of them into a reading list of sorts. Prepaid users can certainly benefit from some of these.

Read the full article →

June 25th, 2010 | Prepaid Services | No Comments
Pretty soon we'll see most states levy a tax on prepaid cell phone users. Maybe we'll see a few holdouts, but with many states struggling with their budgets this seems like a reasonable way to raise a little revenue. Indiana is the latest addition. Starting on July 1 they'll start assessing a 25-cent fee on all purchase of prepaid phones and cards. That does leave prepaid users a little leeway. The state charges postpaid subscribers a 50 cent monthly fee. Prepaid users who top up once a month will obviously pay less, and those who stock up on minutes all at once will pay a fraction of that. Those who top-up weekly, however, will not enjoy this new fee, I don't think.

Read the full article →

June 23rd, 2010 | Prepaid Services | No Comments
Last week I highlighted an enterprising prepaid user who utilized multiple plans and phones to fulfill his various cellular needs. At the end I mentioned that a Google Voice account would come in handy if one were to do this, because no matter which line you used people could reach you at a single number. At that time Google Voice was an invite-only service. Yesterday the company announced that Google Voice is now available to anyone in the U.S. That's good news not just for power users like our friend from Howard Forums, but also for any prepaid user who switches carriers.

Read the full article →

June 17th, 2010 | Prepaid Services | 4 Comments
Since prepaid started to really make its mark on the wireless world a couple of years ago, we've seen many articles citing it as a way to save money. There are many, many people who don't use their postpaid plans to the fullest, and could stand to benefit from a switch to prepaid. Depending on how much effort you put in, you can save tons and tons using prepaid, even if you don't sign up for one of the trendy unlimited plans. Take this Howard Forums user for example. He has a nifty system that takes advantage of a few plans and combines them to make a heavy duty calling service.

Read the full article →

June 9th, 2010 | Prepaid Services | No Comments
If you run a search for "wal-mart prepaid phone" you'll probably come across this article one we wrote years ago. Yes, Wal-Mart has been in the cell phone business for quite a while. Previously, they mainly sold packaged phones with add-on minutes. Now it appears they're making a greater effort to make mobile phones a big part of their electronics department. True to the retail chain's low-cost nature, Wal-Mart has chosen compatible partners, Straight Talk, a subsidiary of Tracfone that runs on the Verizon network, and Common Cents, a low-cost pay-as-you-go provider owned by Sprint. As Tom Cadorette of Motley Fool explains, this is all part of Wal-Mart's big picture. It's a short read outlining how Wal-Mart is expanding its cell phone business. Prepaid, it appears, is at least the beginning.

Read the full article →

June 2nd, 2010 | Prepaid Services | No Comments
Customer service, for many people, represents the lowlight of cellular service. I know plenty of people who are totally satisfied with their prepaid service, but can do nothing but curse and scream after calling customer service. The most common complaint relates to the location of the call centers. Most companies outsource their customer service, and some find it difficult to understand the heavily accented representatives. Sen. Charles Schumer (D-NY) has proposed legislation aimed at bringing these call centers back to U.S. soil.

Read the full article →

June 2nd, 2010 | Prepaid Services | 1 Comment
The answer is yes, apparently. A week after I asked whether there was room for another unlimited services MVNO, another one, i wireless, popped up. Just a day later, we learn that a primary carrier, SouthernLINC, has unveiled a $50 unlimited plan of its own. This one includes the basic staples — unlimited talk and text — plus Push To Talk, web browsing, and, in July, picture messaging. That sounds like one of the better deals out there, though it is only available to customers in SouthernLINC's primary coverage area.

Read the full article →

May 27th, 2010 | Prepaid Services | 1 Comment
It was only a matter of time before the federal government got involved in regulating prepaid phones. Apparently, it took an attempted bombing in Times Square to get them to hustle on it. AFP reports that lawmakers introduced a bill yesterday that would require users to present ID when purchasing prepaid mobile phones, and for the cellular companies to actually track user information, as they do with postpaid accounts. While the powerful telecom lobby will likely put pressure on congressmen and senators to vote down the bill, it could still be a hard fought battle at the capitol.

Read the full article →

May 24th, 2010 | Prepaid Services | 3 Comments
During the past few weeks we saw a number of prepaid carriers revamp their plans. This caters to a growing segment of the market that wants simple plans with predictable costs. Many carriers, including T-Mobile and Virgin Mobile, went the unlimited route, providing their customers with flat-rate, unlimited services. Others, including PlatinumTel and Sprint subsidiary Common Cents, chose a pay-as-you-go option that features consistent rates. In other words, there's no adjusting for different times of day. The rate is the rate is the rate. Best of all, the rate beats most of what else is out there. This has made me wonder if there is room for any more prepaid carriers.

Read the full article →

May 17th, 2010 | Prepaid Services | 1 Comment
In a recent article for GigaOm, Colin Gibbs wonders what will happen when prepaid carriers start to carry data-intensive phones. We've seen a few prepaid BlackBerry offerings, but as Gibbs notes, even then data intensity might not be as big an issue. On the whole, though, there aren't many, if any, prepaid phones that measure up to the iPhone and Android offerings that have captured the market. Eventually they'll hit prepaid, at which point the major carriers will have to figure out what differentiates them. There is one issue, beyond smartphones, that postpaid carriers boast as an advantage, and it's one that prepaid carriers could adopt.

Read the full article →

April 20th, 2010 | Prepaid Services | 4 Comments
Now that the first quarter has come to a close, we wait patiently for each carrier to report its subscriber numbers. I'm particularly interested this quarter because of prepaid's recent strength. As we learned in March, carriers added more prepaid subscribers than postpaid in the fourth quarter, so I've been wondering whether this trend will continue. According to Phil Goldstein at FierceWireless, that might very well be the case. He reports that both Verizon and AT&T will each add announce subscriber gains of around 1.5 million, but that only a third will be postpaid. Much of this prepaid gain will come in the form of wholesalers, but it represents growth nonetheless.

Read the full article →

April 15th, 2010 | Prepaid Services | No Comments
Over the past year and a quarter, flat-rate unlimited plans have become the biggest trend in prepaid. It seems like every carrier has adopted one, making it seem like a completely different offering than pay-as-you-go plans. We've seen some movement in the flat-rate, unlimited market, including pricing shifts and new carriers. At RCR Wireless, Maidy Whitesell examines seven trends in the prepaid unlimited sector. It's all stuff we've noted as it has happened, but she does a good job of putting everything in one place. It includes carriers having a nationwide network, offering unlimited everything, including text and data, and adding smartphones to their lineups. Hopefully at this point next year we're talking about seven brand new trends in the prepaid wireless space.

Read the full article →

April 12th, 2010 | Prepaid Services | 1 Comment
While the big carriers have been touting their unlimited voice, messaging, and data services for a while now, a number of smaller carriers, including MVNOs of the larger carriers, have been making an impression as well. Over the past six months or so we've introduced a number of carriers going for this, including PlatinumTel and Simple Mobile (which will have a page this week). The latest into the fray is Lightyear Wireless. The company, which resells a number of communications services, will now offer flat-rate prepaid cellular services, using the Sprint nationwide network.

Read the full article →

April 6th, 2010 | Prepaid Services | No Comments
Everything has been coming up prepaid lately. Not only did prepaid count for two out of every three new subscribers in the fourth quarter of 2009, but the prepaid sector greatly outgrew its postpaid counterpart. Recent research suggests that this trend might continue not only through the first quarter of 2010, but perhaps beyond. Hitwise Intelligence notes that searches for terms like "prepaid" and "pay as you go" in relation to wireless services increased during March. More people searching typically means more people buying, so we could see increased prepaid gains throughout 2010.

Read the full article →

April 1st, 2010 | Prepaid Services | 2 Comments
Last week we saw a report that 65 percent of new net wireless adds in the fourth quarter were prepaid. Even better, we got some overall subscriber numbers for the bigger prepaid carriers. Not to be outdone by IDC Research, New Millennium Research Council released some more numbers yesterday. They cited the nearly two-thirds number, which we already knew. THey added, though, that the prepaid sector grew 54 percent during the fourth quarter, while postpaid grew just three percent. That's to be expected, of course, considering prepaid accounts for roughly 18 percent of the overall U.S. wireless market. New Millennium believes that this trend "will continue into the first quarter of 2010 and will continue after the recession. With rumors of a new iPhone, including one on Verizon, plus a slew of Android handsets coming out this year, I'm not so sure about that.

Read the full article →

March 16th, 2010 | Prepaid Services | 3 Comments
The results from the fourth quarter of 2009 are in, and we've gone over the available numbers for prepaid carriers. They didn't seem absurdly high, and in fact a few carriers missed their estimates. Even so, prepaid adds accounted for 65 percent of net new adds industry-wide in the fourth quarter, according to IDC. Then again, with Sprint losing customers and T-Mobile adding more prepaid subscribers than postpaid, this comes as less of a surprise. It appears that the efforts of carriers like MetroPCS, Cricket, and Boost Mobile paid off. We also found out some less reported statistics regarding total subscribers for the major prepaid carriers.

Read the full article →

February 25th, 2010 | Prepaid Services | 1 Comment
At this time last year, prepaid unlimited plans seemed like they were the answer. Boost Mobile made the biggest splash with its $50 unlimited plan, but both MetroPCS and Cricket saw large gains in the first quarter. The craze was on, and we prepared to see continuing growth. After all, these plans beat their postpaid counterparts by considerable dollars. Why wouldn't people move to prepaid?
As we learned not long thereafter, the craze did not catch on. Growth at all three carriers leveled out or completely dropped off, and by the third quarter MetroPCS added under 100,000 subscribers. So what can these companies do to fuel future growth?

Read the full article →

January 22nd, 2010 | Prepaid Services | No Comments
I ran across a few items over the past few weeks that I didn't think fit into full posts. So, on a glorious Friday, I'll dump them on you all at once. We'll start with Boost Mobile, which plans to promote its brand during the Super Bowl with a new ad. Super Bowl commercials are usually a big thing, though I thought they lost their luster years ago. As we learned last week, Boost plans to play off the Super Bowl Shuffle, a bit the 1985 Chicago Bears recorded. They plan to bring back a few originals, and I will be clearly disappointed if William "The Refrigerator" Perry isn't among them.

Read the full article →

January 20th, 2010 | Prepaid Services | 1 Comment
CDMA networks offer many advantages over their GSM counterparts, but in one area GSM remains superior: handset portability. GSM networks use SIM cards to identify users, so theoretically the users can take this SIM card from handset to handset and the carrier can keep straight who is who. In practice, carriers lock phones to their networks, so there's an extra step to take before you can plop your SIM card into any old phone. CDMA networks, however, do not use SIM cards, so their handsets cannot be unlocked by normal means. Instead, they have to be reflashed. The problem is that carriers do not want you taking a handset from carrier to carrier, so finding someone to reflash your phone has become a chore.

Read the full article →

January 19th, 2010 | Prepaid Services | 4 Comments
As we learned at the end of last week, Verizon Wireless has added new prepaid calling plans that mimic their monthly calling plans. For $5 more than a postpaid plan, you can enjoy Verizon service on a prepaid basis. This gives Verizon two prepaid ends, their pay-as-you-go side which requires a daily access fee for most plans, and their new monthly plan side. Their biggest competitor, AT&T, has a similar setup. So let's see which company offers the better deal.

Read the full article →

January 13th, 2010 | Prepaid Services | No Comments
As America dealt with a sluggish economy to start 2009, prepaid grew. Boost Mobile introduced its $50 unlimited plan. MetroPCS expanded to Boston and New York. Combined they added about 1.4 million subscribers. While it was easy to attribute those gains to the aforementioned upgrades, Cricket did pretty well, too, adding nearly a half million subscribers after rolling out service in Chicago and Philadelphia. It appeared that prepaid was on the uptick. Yet, as the year went along, we saw those subscriber gains dwindle, culminating in poor third quarters for many operators. Things rebounded somewhat for the fourth, but it still has some asking the question of whether the rise in prepaid was just a half-year trend.

Read the full article →

November 11th, 2009 | Prepaid Services | 6 Comments
We covered the quarterly results for both MetroPCS and Cricket late last week, though we didn't get much further from the numbers. They are generally poor, which has caused them to revise estimates for yearly subscribers. Gary Kim of TMCnet takes a closer look at each company's numbers and their adjustments. He presents some ideas in his post, and I'd like to combine them with one of my own.

Read the full article →

November 4th, 2009 | Prepaid Services | No Comments
Prepaid wireless covers about 17 percent of U.S. wireless subscribers, and that number continues to grow. Carriers are adding more prepaid customers than ever, and unlimited services like Boost Mobile and MetroPCS are giving customers robust service plans for a fraction of what they'd pay for similar plans on contracts. Consumers will continue to help prepaid grow, but a new development could take it even further. A recent survey by Compass Intelligence suggest that more small businesses could use prepaid wireless services for employee usage.

Read the full article →

October 22nd, 2009 | Prepaid Services | No Comments
I'll admit, I was a bit duped by the headline on this GigaOm post. We know that the US prepaid wireless sector lags behind its UK counterpart, so any article that purports to show the differences will interest me. That's not exactly the case here. Instead, the author, Colin Gibbs, examines O2's Top Up Surprises campaign, which "rewards users with prizes as they renew their accounts and enables advertisers to interact with consumers." It sounds like a great idea, as customers can win more than just free minutes. As we've seen in both the US and the UK, though, mobile advertising platforms can fail as quickly as they succeed.

Read the full article →

September 28th, 2009 | Prepaid Services | 1 Comment
We know that prepaid wireless can be a good choice for consumers. But what about small businesses? They are entities that could have trouble committing to two years of a cell phone contract, and the current state of the economy only amplifies that effect. Sarah Reedy at Telephony Online takes a look at the issue. Will businesses, not knowing if certain employees will be around for two years, opt to buy prepaid phones? They could, but more than likely it will lead to a change in postpaid business offerings. Business users project to hit 64.2 percent of the market by 2013, up from 54.3 percent today, so expect carriers to further cater to them.

Read the full article →

August 18th, 2009 | Prepaid Services | No Comments
As we've learned over the course of 2009, prepaid wireless is poised to grow faster than its postpaid counterpart. This is for a number of reasons, not least of which is the economic climate. Specifically, analysts forecast that prepaid will grow at 11 percent per year through 2013, while postpaid will grow about 4 percent per year in the same span. Yet because of the financial realities of prepaid customers, from a carrier's perspective, we might not see much emphasis placed on prepaid — at least not as much as we've seen in other countries, where the majority of users are on prepaid plans. Matt Hamblen at Computer World takes a look.

Read the full article →

August 3rd, 2009 | Prepaid Services | 7 Comments
J.D. Power and Associates, the company which rates other companies, has released a new survey regarding the prepaid wireless industry. As always, they rate these services based on six factors which they think most important to wireless consumer satisfaction (performance and reliability, cost of service, account management, initial activation, offerings and promotions, and customer service). Topping this list this year was Net10, which was included in the survey for the first time. Quite a strong debut indeed. They put up a score of 774 out of 1,000. Ranking two through six, in order, were Tracfone, Boost Mobile, Virgin Mobile, Alltel, and T-Mobile. All of these ranked above industry average, while the others were apparently left in the dust. The survey also had some findings about prepaid in general.

Read the full article →