Poll
Loading ...
Mobile Advertising
August 27th, 2015 | Mobile Advertising | No Comments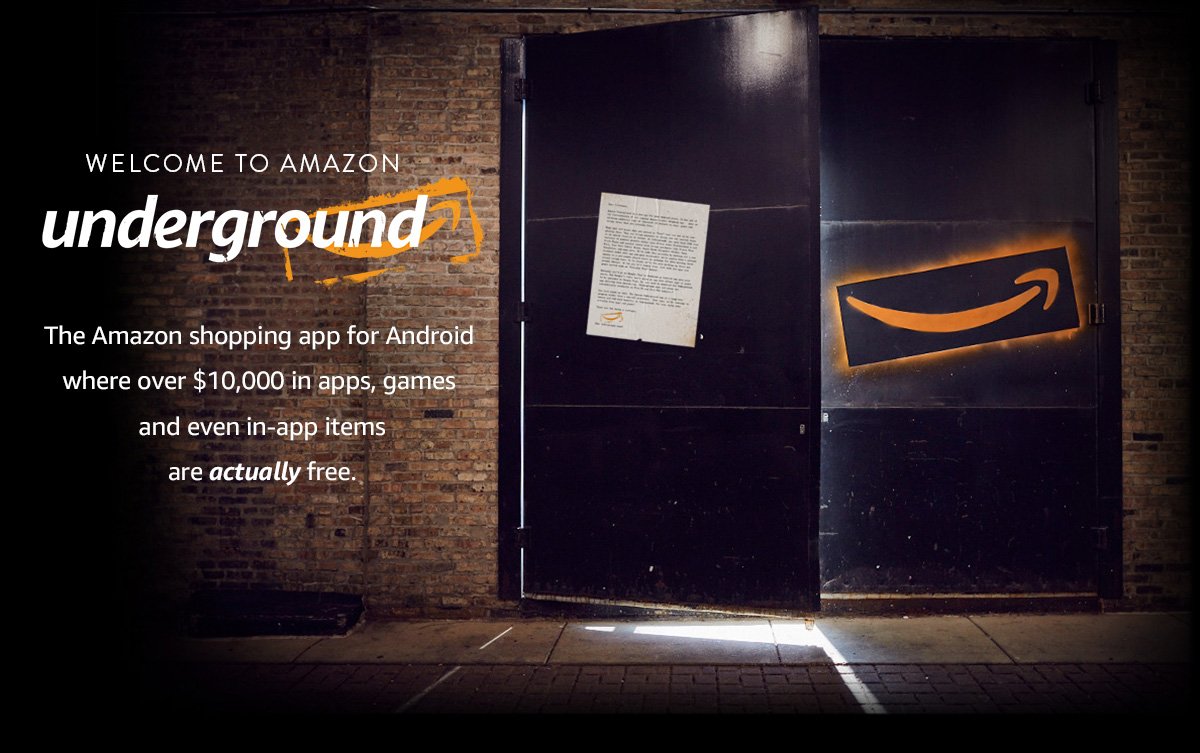 When most people think about app stores, Amazon is the last on the list. Not only is it only available for Amazon and Android devices, but really the app store doesn't have anything that Google Play doesn't. And while the Amazon App Store requires all kinds of hoops in order to download, Google Play is automatically included on pretty much every Android device.
The only thing that really set the Amazon App Store apart was its Free App of the Day, which would offer users a paid app for free every day of the year. Sometimes they were awesome apps and sometimes they weren't, but it was something no one else had. Well, it looks like Amazon has finally put and end to the Free App of the Day promotion and unleashed a new way for consumers to get free apps–Amazon Underground.

Read the full article →

January 22nd, 2009 | Mobile Advertising | No Comments
Many times in the past we've talked about ways you can cut your cell phone costs by utilizing mobile advertising services. These are incentive-based programs. The most prominent is Virgin Mobile's Sugar Mama program, whereby subscribers are paid to view a certain number of ads. We talked about this in relation to MyScreen Mobile, though I had my doubts based on their lack of a privacy policy. Now they have one in place, and they've partnered with a mobile services team to enhance their ad inventory. Could they be a viable solution to your high phone bill?

Read the full article →

May 1st, 2008 | Mobile Advertising | No Comments
What if I told you that you could get paid just to view advertisements on your phone? Is that something you might be interested in? In late 2006, 26 percent of respondents said that they'd be willing to view mobile advertising in exchange for free phone applications. I can only imagine that a greater number would say yes if instead of applications, the incentive was money towards their monthly bill. This is especially so for economic-minded prepaid users, who understand the value of cell minutes. After all, who couldn't use a few dollars to help subsidize their calling habits?

Read the full article →

March 19th, 2008 | Mobile Advertising | No Comments
There's little more to say about the mobile advertising field than it's growing. We've seen some outlandish predictions, and we've seen some more conservative ones — that is, if you consider $11 to $20 billion in three years' time to be conservative. In any event, Boost Mobile is taking steps to move mobile advertising forward. They've partnered with Amobee, "a world leader in mobile advertising solution for wireless service providers," to serve their customers ads. So if you're a Boost Subscriber, you're going to start receiving advertisement on your phone.

Read the full article →

September 12th, 2007 | Mobile Advertising | No Comments
We can't imagine how much time is wated spent every day by people in board rooms dreaming up new ways to advertise on mobile phones. After all, it's a hot new medium, ripe for polluting. The earliest model was paying customers to view ads, but we saw and continue to see this as an entry ground, not something that will last for a long time. The new thing in mobile advertising has been coupons, which are sent via text message to willing customers. So while they don't get free cell minutes, they do get discounts at various restaurants and retailers. It's a decent step forward, we suppose, but it still has a long way before it catches on.

Read the full article →

August 20th, 2007 | Mobile Advertising | No Comments
Honestly, there are few things more annoying than receiving a spam text message. Oh, I can get the hottest new ringtones? Gee, thanks for the breaking news. I'm glad you used up one of my valuable text messages for the month — or even wasted my 10 cents. But if you think about it, this is almost exactly how Internet advertising was in its infancy. You'd navigate to a web page, only to be bombarded with pop-up ads — which are just as annoying as text message spam. Well, Internet advertising evolved into something less annoying, though it's not exactly perfect now. Will mobile advertising undergo similar changes?

Read the full article →

August 6th, 2007 | AT&T, Mobile Advertising | No Comments

Facebook. It's the new shiz, right? Ever since they opened their service to all users — not just those in college — they've skyrocketed in membership, up to around 30 million now. Because of this spike — well, because of the general social networking spike — advertisers have been trying to get their grubby hands on this market. Virgin Mobile entered the fray about two months ago; now, AT&T wants a piece. However, they're doing things a bit differently, and we're not sure we understand.

Read the full article →

July 9th, 2007 | Mobile Advertising, Virgin Mobile | 2 Comments
About two weeks ago, we found some news on mobile advertising. This is an idea we had previously opposed, but once we read this business model, we couldn't help but get excited. Imagine looking at an ad…and knowing you're getting paid for your time. It's the best idea to come to interruption marketing since, well, ever. We had reported earlier on MyScreen Mobile, but this is a different program run exclusively through Virgin Mobile.

Read the full article →

June 22nd, 2007 | Mobile Advertising | 2 Comments
We've made it well known that we are not fan of interruption marketing. Whether it's a TV commercial or an advertisement preceding an online video, we think that forcing people to watch ads is just a silly and outdated method of spreading your message. Most of the junk advertised doesn't even appeal to us, meaning that the companies are effectively wasting a portion of their dollar. And most of them don't even have a call to action, so they try to get by merely with the power of suggestion. None of this is appealing to us. And we really dread the day it becomes common on our cell phone.

Read the full article →

June 20th, 2007 | Mobile Advertising, Virgin Mobile | 1 Comment
We covered the Virgin Mobile"You Rule" ads last week, noting that they offended quite a few people, most notably on Staten Island. Then we heard rumblings that they misplaced a few ads. A billboard poking fun at Upper East Siders, intended for the Upper West Side, was mistakenly placed in the UES. So yeah, things didn't start off so well for the new Virgin Mobile ad campaign.

Read the full article →

June 12th, 2007 | Mobile Advertising, Virgin Mobile | No Comments
As we said yesterday, we're completely in favor of marketing and advertising that doesn't involve us sitting through a 30-second commercial (actually, we watched Talladega Nights last night, and were massively peeved when they ran that cheap-o Applebee's commercial in the middle of it). So we praised Virgin Mobile for its Facebook marketing plan.
Then we get an e-mail last night about, yes, another Virgin advertising campaign. In an attempt to expand their service in New York City, they've begun to place enormous ad posters and billboards all around the city. They feature the slogan "You Rule," followed by, well, something that rules. For instance, they've used "Car-Service Drivers, You Rule."

Read the full article →

June 11th, 2007 | Mobile Advertising, Virgin Mobile | 3 Comments
We love the idea of viral marketing, so we have little bad to say about the recent partnership between Facebook and Virgin Mobile. The idea is called "My Mobile," and it's one of the most effective forms of advertising we've yet seen.
Once Virgin Mobile customers activate the "My Mobile" feature on Facebook, everything they download — games, wallpapers, ringtones — will be listed in their profile. This goes hand-in-hand with their once-controversial News Feed feature. Now everyone can see what mobile content you're using.

Read the full article →

June 7th, 2007 | Mobile Advertising | 1 Comment
We know plenty of people who have done it (us included), but we didn't know the number was this great: "13 percent of all households in the country" have rid themselves of a landline in favor of an all-cellular lifestyle. There is little doubt that this number will increase with fervor over the next few years.
And it's killing the polling industry.

Read the full article →

June 6th, 2007 | Mobile Advertising | 1 Comment
Mobile advertisers are looking to spend a fair amount this year: $1.4 billion. Okay, so it's a little more than fair. But the message is clear: mobile advertising is going to grow along with Internet advertising. In fact, Strategy Analytics predicts that mobile advertising will exceed $14 billion by 2011. For those of you at home without a calculator, that's a growth of over 1000% over four years.
What does that mean for you, the cellular subscriber? It means watching 30-second advertisements before basically doing anything on mobile web: video on-demand, game downloads, live video feeds, etc. And, unfortunately, it probably means advertising text messages (though you probably won't be able to get rid of these). Just what we all need: more spam.

Read the full article →