Poll
Loading ...
Liberty Wireless
September 25th, 2014 | Liberty Wireless | No Comments

There are so many MVNOs, it is easy to overlook some in the favor of the larger ones. One that we don't talk about a lot is Liberty Wireless, a small MVNO created in 2002 and currently owned by GSM Nation. Liberty wireless doesn't have a whole lot of options in either the phone or service category, but they do offer a BYOD option and some pretty reasonable rates if you don't really use data.

Read the full article →

January 7th, 2010 | Liberty Wireless | 5 Comments
Things were starting to look bright for Liberty Wireless. They've gone through many changes over the past few years, and have irked many former customers. They've turned things around over the last few months, moving their plans more in line with industry standards. They recently began a bring your own device program, where they let users bring their Sprint network phones to their service. Unfortunately, it appears that Sprint does not like that idea, and has ordered Liberty to cease.

Read the full article →

December 30th, 2009 | Liberty Wireless | 2 Comments
One reason Page Plus has received such critical acclaim is because you can activate any Verizon Wireless phone, instead of purchasing one from Page Plus. While the practice isn't exactly uncommon now — MetroPCS has a flashing program, and Cricket supposedly does them — it's still a boon for consumers. Instead of spending money on another — probably low-grade — handset, Page Plus allows you to use an existing handset and save that money for service. The latest carrier to hop aboard the bring your own device (BYOD) bandwagon: Liberty Wireless. You can now activate any Sprint phone, from the main carrier or an MVNO, when you sign up with Liberty.

Read the full article →

February 20th, 2008 | Liberty Wireless | 8 Comments
Last week, I was checking in with our pay-as-you-go phone providers for some routine stuff. You know, updating reviews, getting info for future articles. Things like that. Anyway, much to my dismay, the Liberty website was down. It had a maintenance tag on it, so I knew they weren't kaput, but it was a bit alarming that their website was nonoperational. They're back now, though, and it seems they're eyeing an easier customer experience.

Read the full article →

November 15th, 2007 | Liberty Wireless | No Comments
Update: There seems to be some confusion on who filed for bankruptcy and who owns what. As was pointed out, Teleplus purchased Liberty Wireless from InPhone Inc. We apologize for the confusion. We received a tip, investigated, and it appeared that it checked out. It did not. Liberty is still listed at the BBB as being under InPhone. That was our mistake. We apologize for the error.

Read the full article →

August 16th, 2007 | Liberty Wireless | No Comments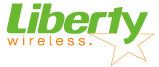 Those pesky MVNOs. Back a year or so ago, everyone thought they were the next big thing. With Boost, Mobile ESPN, Amp'd, and Disney on the scene, it looked to be a flourishing business model. Of course, that all has come crashing down recently, with Amp'd and ESPN biting the dust, Boost being bought by Sprint and essentially becoming its prepaid provider, and Disney faltering. TelePlus wireless felt the effects of that during the second quarter of 2007, posting losses which were attributed to the acquisition of the MVNO Liberty Wireless, one of the featured providers here at Prepaid Reviews.

Read the full article →

July 13th, 2007 | Liberty Wireless | No Comments

Earlier this week, we reported that Nortel and Cricket will work together to provide better CDMA coverage to Cricket subscribers. Well, Nortel is at it again, agreeing with T-Mobile on a $150 million deal. Nortel plans to upgrade T-Mobile's GSM equipment so that it is of the highest standard. We still like CDMA a ton better, but at least T-Mobile is working with what it's got. They've been doing business with Nortel since their inception as VoiceStream Wireless back in 1995.

Read the full article →