Poll
Loading ...
Boost Mobile Launches Promo For Multi-Line Accounts
posted by Liz E. on May 13th, 2017 - 12:35 pm | Boost Mobile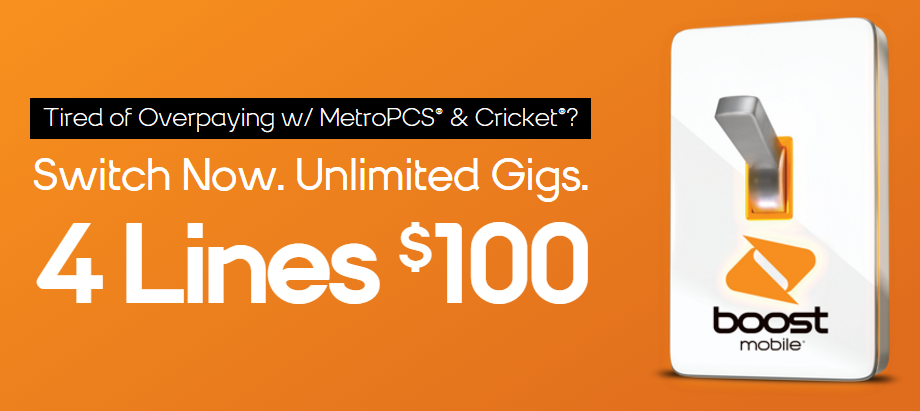 Sprint's Boost Mobile has launched a new promotion aimed at customers with at least four lines of service. With this promotion, customers can get unlimited, talk, text, and high speed data on all four lines for $100. The promotion is available until the first of June, 2017.
In order to qualify for the promotion, customers must be new to Boost Mobile and at least one line must be a port-in from a non-Sprint related carrier or MVNO. Current Boost Mobile customers are not eligible for this promotion, and the unlimited data is only available on Sprint's network—not roaming partner networks.
Although the promotion is advertised as $100 for four lines, customers can have as few as two; the price does not change. Customers can add a fifth line for an additional $30 per month. The primary account holder is responsible for the plan cost and recurring bolt-ons.
As is expected with all unlimited plans, this promotion does come with the caveat that customers who use more than 23 GB per month will be deprioritized during periods of heavy traffic in order to ease congestion. Additionally, video streaming is restricted to 480p — both things that are present on all prepaid unlimited plans available currently.
Despite the fact that this is a Sprint plan (and therefore subject to Sprint's terrible coverage in most areas) this is actually a pretty good deal. Without this promotion, the plan price for 4 lines on Boost's unlimited family plan would usually be $140. While MetroPCS does have a family plan offering, it only includes 2 GB, which makes Boost the current best deal for unlimited data if you have multiple lines.
The only catch is that Boost doesn't really allow the activation of most phones on its service so customers will likely have to purchase a new Boost device in order to even take advantage of this promotion. You can view the list of phones that can be activated here, or check out Boost's phone prices here.
For more information on this promotion or to sign up, visit the Boost Mobile website.