Poll
Loading ...
Boost Mobile getting Blackberry Style 9670 flip phone
posted by Joe on July 7th, 2011 - 4:31 pm | Boost Mobile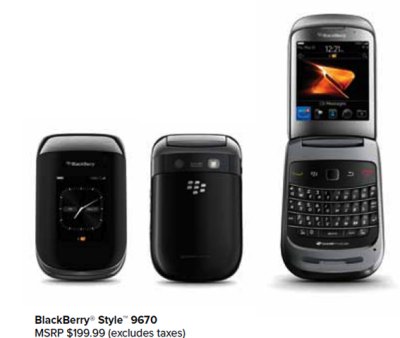 Yesterday we talked about pricing changes that are coming to Virgin Mobile. The information came from a PDF sent to dealers and obtained by PhoneNews.com. Also contained in that PDF was a bit of news on another Sprint prepaid brand, Boost Mobile. No, their plans aren't changing, but they're soon getting the BlackBerry Style flip phone, pictured above. It's fairly standard for the older generation BlackBerry models, though the external screen is nice for previewing messages. It'll drop at $199.99 plus tax, and is compatible with Boost's $60 monthly unlimited BlackBerry plan, as well as its $3 daily plan.