Poll
Loading ...
Padfone X Mini Debuts on GoPhone Next Week
posted by Liz E. on October 15th, 2014 - 11:57 am | AT&T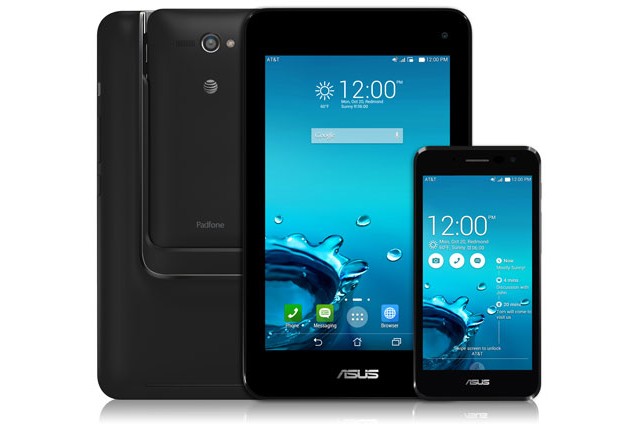 AT&T GoPhone announced today that they will be the exclusive prepaid carrier of the new Asus Padfone X Mini. A sequel to the unusual Asus Padfone X released in June, this device is really pretty unique and will provide more flexibility than most other devices at this price point.
The Padfone X Mini has two parts–a 4.5 inch phone with pretty low to mid-grade specs and a tablet docking gadget that will instantly change the phone into a 7 inch tablet. The tablet docking station itself will not run without the phone portion, but will provide a larger tablet-like experience without any additional purchase. Both the phone and the tablet docking station can be purchased for $199.99 starting October 24. This device will be available exclusively from AT&T GoPhone.
For those more technically-minded, here are the specs for the Padfone X Mini:
Phone
Android 4.4 KitKat
4.5-inch 854×480 screen
1.6GHz Intel Atom Z2560 processor, XMM 7160 LTE modem
4G LTE connectivity
5-megapixel rear, 2-megapixel front cameras
8GB of storage
microSD card slot
1GB of RAM
2060mAh battery
Tablet Docking Station
7-inch 1280×800 screen
1-megapixel front camera
2200mAh battery
Reviews of the Padfone X weren't the greatest, with most people stating that the software was a little buggy and that the experience overall was mediocre at best. It's unclear whether this newest generation has those bugs fixed or not, but regardless, I think this is a pretty cool concept and hope it takes off with more efficient and tested developers.
What do you think? Cool idea or pointless? Let me know in the comments!