Poll
Loading ...
AT&T eliminates unlimited MEdiaNet for Go Phone Pick Your Plan
posted by Joe on October 15th, 2008 - 10:00 am | AT&T
Earlier this month we learned that AT&T will eliminate their $20 unlimited MEdiaNet option for Pay As You Go subscribers. Chris from Phone News came along and corrected a mistake, noting that this only applied to Pay As You Go subscribers, while my screenshot was taken from the Pick Your Plan screen. Well, as if it was an omen, AT&T has cancelled the $20 unlimited data plan for Pick Your Plan subscribers. That's just no fun.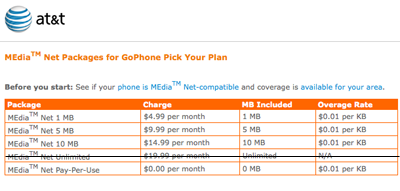 They've sent a text message to customers affirming this report. So that's really it. AT&T isn't touted for much — even the iPhone 3G had/has its problems. They were lauded for these $20 unlimited data plans, though. And now they're gone. Just like that.
If another company can slide in with a similar offering, even at, say, $25 per month, they could pick up a number of subscribers. These soon-to-be-former AT&T customers will surely be on the hunt for the next best prepaid data deal. Someone will step up.