Poll
Loading ...
AT&T discontinuing prepaid unlimited data plan
posted by Joe on October 6th, 2008 - 7:30 am | AT&T
Update: As Chris points out in the comments, this only affects Pay As You Go customers. I inadvertently took the Pick Your Plan screen grab. Apologies.
Well, it was fun while it lasted. Just five months after we found out about AT&T's unlimited MEdia Net prepaid plan, it's going the way of the Dodo. Word comes from Phone News that the $19.99 monthly plan will no longer be an AT&T Go Phone option. The axe comes down on November 12th, putting an end to what has been deemed a "trial exercise."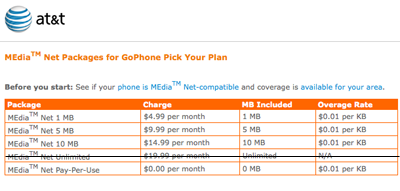 Rumors of this started on Howard Forum two weeks ago. A prepaid rep chimed in early last week, saying he/she hadn't heard anything about it. I suppose the plan was in the works, but AT&T wasn't telling anyone.
Hopefully, AT&T comes back with a similar offering. They say they'll continue offering per-usage MEdiaNet, which includes the plans listed above (minus the unlimited, of course). It's just not the same, though.