Poll
Loading ...
Virgin to introduce $40 unlimited prepaid broadband
posted by Joe on August 23rd, 2010 - 7:30 am | Virgin Mobile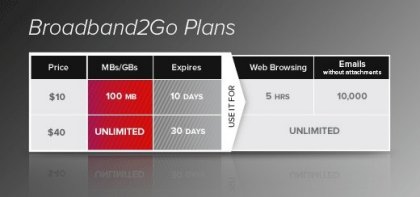 Something tells me that Virgin Mobile's new prepaid broadband plans will once again raise the question of what is defined as unlimited. Via IntoMobile we learn that the company plans to overhaul its Broadband2Go offering this week, going from three choices to two. That might seem bad, but when one of them is a $40 one-month plan that provides unlimited data, it actually seems pretty good. Great, even. Which makes me think that it's too good to be true. I tried out Virgin's broadband earlier this month using the MiFi, and I have to say the experience was excellent (review forthcoming). To get unlimited for $40 is a coup. You can also get a $10 plan that provides 100MB over 10 days.

Related Posts

3 Responses
Verizon reportedly set to offer expensive prepaid broadband | Prepaid Reviews Says


[...] may want to subscribe to the the feed.When we learned this week that Virgin Mobile would introduce a staggeringly cheap prepaid unlimited broadband plan, we thought it might change things a bit. AT&T, after all, had just gotten through telling [...]


Posted on August 25th, 2010 at 7:31 am
Clearwire taking WiMax broadband to prepaid | Prepaid Reviews Says


[...] The details are sparse as the moment; even the combination with Sprint's 3G network is a guess, though it wouldn't seem like a good idea to go straight 4G, since not every market is wired up yet. Clearwire's offering will now join Virgin Mobile in a more aggressive approach towards prepaid mobile broadband. As we saw last week, Virgin will offer a $40 monthly unlimited broadband plan. [...]


Posted on August 30th, 2010 at 7:31 am
Virgin's unlimited Broaband2Go includes 5GB cap | Prepaid Reviews Says


[...] site, you may want to subscribe to the the feed.Virgin Mobile made waves this past summer when it introduced a $40 unlimited mobile broadband plan. It was by far the cheapest in the industry, and best of all it didn't include any caps. [...]


Posted on January 11th, 2011 at 11:39 am
Leave a Reply
Featured Provider
Net 10 Prepaid

Our Rating