Poll
Loading ...
Virgin Mobile getting Android-powered Motorola Triumph
posted by Joe on June 10th, 2011 - 7:30 am | Virgin Mobile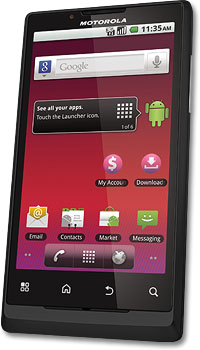 Yesterday Motorola and
Virgin Mobile
announced a new Android handset, the Triumph. It resembles many of Motorola's other Android handsets — it's kind of like the Droid without the slide-out keyboard. It's a larger device at 4.1 inches, and it features a 5 megapixel rear and VGA front-facing cameras. It runs fast at 1GHz, and, for the multimedia fans, it has an HDMI output. It also runs Android 2.2 out of the box, though at some point you have to figure it will get 2.3. This looks like the highest end handset to date for Virgin Mobile, and I can see plenty of users upgrading. There's no price or release date set for it, but I would figure somewhere between $200 and $300 with a summer release date.
Via Phone Scoop. Hands-on video from Phandroid after the jump.