Poll
Loading ...
Virgin introduces Kyocera S2100
posted by Joe on February 2nd, 2011 - 10:14 am | Virgin Mobile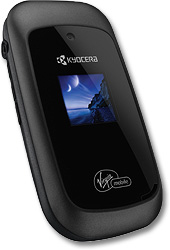 Yesterday Virgin Mobile released the LG Optimus V, a nifty Android smartphone. Today's phone announcement isn't nearly as big, but it still can bring value to payLo customers. The Kyocera S2100, pictured above, doesn't do much beyond make and receive calls, send and receive texts, and take grainy photos. But it's a cheap clamshell option for those who have no need for a smartphone. Again, it's available for customers of Virgin's payLo plans, and it costs $39.99. You can get the S2100, and a payLo plan, at Virgin Mobile's website.
Via Phone Scoop.


2 Responses
Filippo Says




I drowned my Samsung Mantra in the washer, but it was a great phone.

This Kyocera is horrrible. The text is too small. The screen is too small. Its cheaply made. AND IT DOESNT LIST THE PHONE CALL RECEIVED AND SENT !!!!
I realized that went new clients called me and I wanted to call them back. I couldnt go into a call list to click. There is no call list on the phone.

I would have to go online to my VM account to find the people who called me.


Posted on April 11th, 2011 at 12:10 pm

Janeway Says




It is certainly not obvious and I thought there was no list, but the manual (which did not come with the phone) says to press down on the navigation key and the recent call list will show up, and there it is!

Not a wonderful design, but it is actually there. But it is not available in the menu, which is weird.


Posted on August 23rd, 2011 at 1:37 pm
Leave a Reply