Poll
Loading ...
Mahalo: Because everyone else is saying Aloha
posted by Stuart on August 17th, 2007 - 10:00 am | Virgin Mobile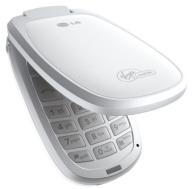 If you're a Virgin Mobile subscriber, you've got a new — reasonably priced — phone option. It's the Aloha from LG, and, uh, it's pretty small. It clocks in at 3.5 x 1.9 x 0.9, so for those of you who like to stow a phone in your pocket, the Aloha will fit perfectly.

As for features, well, it's pretty standard. MP3 ringtones, voice dialing, speakerphone, etc. It also comes with a few preloaded games: ZooZoo Club and Battle Reversi, neither of which we've heard of. But we're figuring they could keep us occupied for at least a couple hours.
The second best part about the phone is the price: $35. It might not be a top-of-the-line offering, but it's completely functional and completely cheap.
The best part is that Virgin is auctioning off signature versions of the Aloha — designed by established visual artists — for charity.
These limited- edition phones will be auctioned off as part of The RE*Generation Gala and Art Auction this November, recently designated by Congress as "National Homeless Youth Awareness Month." Proceeds from this and other activities will benefit Virgin Mobile's charitable partners, including StandUp For Kids, Children's Health Fund and YouthNoise.
So at least they're doing something for a good cause.

Related Posts

One Response
Virgin, LG team up for youth homeless awareness | Prepaid Reviews Says


[...] And to help kickstart awareness, Virgin and LG are teaming up to auction off six hand-painted Aloha by LG phones. These phones will be auctioned off at the inaugural event for National Homeless Youth Awareness [...]


Posted on October 29th, 2007 at 9:01 am
Leave a Reply
Featured Provider
Net 10 Prepaid

Our Rating