Poll
Loading ...
LG Optimus Elite on presale with Virgin Mobile
posted by Joe on May 14th, 2012 - 7:30 am | Virgin Mobile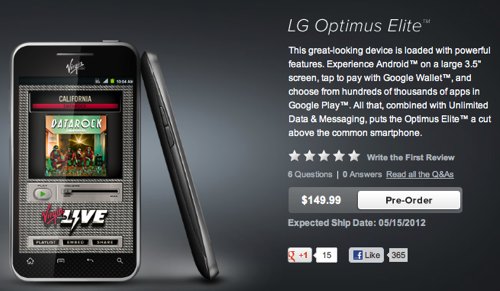 Update: Apparently the pre-order is sold out. That was quick. The handset will go on sale to the general public tomorrow. We'll have to wait and see if they have any units available, or if they really did sell through them all in the pre-sale.
The LG Optimus Elite Android smartphone is now available for preorder from Virgin Mobile. We first learned of the Optimus Elite in March, and then Virgin made the official announcement last month. The Elite is a mid-range Android handset, featuring an 800MHz processor, 3.2-inch screen, and Android 2.3. It's expected to ship on Tuesday, so you can get in your last-minute preorder now, or you can just wait to pick it up at a later date. It's available for $149.99 on Virgin Mobile's website.

Related Posts

Leave a Reply
Featured Provider
Net 10 Prepaid

Our Rating