Poll
Loading ...
Verizon to offer big lineup on prepaid
posted by Joe on September 1st, 2010 - 7:30 am | Verizon Wireless
We know that Verizon Wireless is going to offer a prepaid BlackBerry plan. We heard murmurs earlier in the year, and the signal seems to be getting stronger. Yesterday those rumors got a bit more concrete. The blog Android Does got their hands on some Verizon marketing material that reveals not only a prepaid BlackBerry, but a prepaid lineup that contains many of Verizon's most popular smartphones and multimedia handsets. It does look like Big Red is getting serious about prepaid.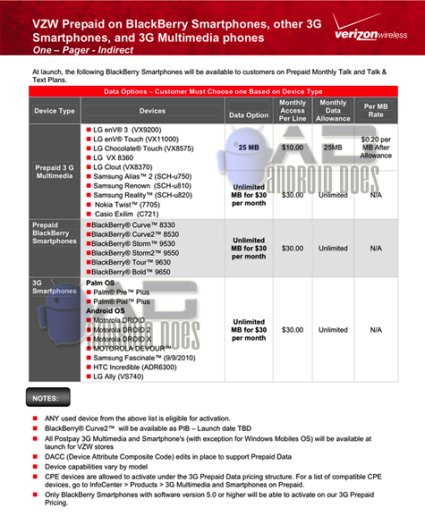 As you can see in the image, you will be able to choose from a number of phones for use on Verizon's prepaid service. It's basically their entire lineup, though the price will be considerably more expensive than contract service. Such is life with prepaid. But if you're willing to shell out for the handset and $5 extra per month for the voice service, you can take advantage.
For BlackBerry and other 3G smartphones, prepaid users will get the same $30 unlimited data plan that postpaid users enjoy. For those using multimedia phones there is the option for the $30 data plan, but users can pay a bit less by going with the $10 plan that provides 25MB of data, with 20 cents per MB thereafter.
It sounds like these will drop in Verizon stores starting September 2, so tomorrow. If this is the case I'll make sure to stop by and take some pictures.