Poll
Loading ...
Verizon overhauls prepaid plans
posted by Joe on February 11th, 2009 - 8:30 am | Verizon Wireless
It's been 15 months since we saw Verizon eliminate their Easy pay plans in favor of tiered pay-as-you-go service, all with daily access fees. We've since seen them offer an unlimited messaging bundle, but other than that things haven't changed much. They ran a pre-holiday press blitz in which they fooled many sites into thinking they had released new prepaid plans, but really were just pimping their old ones. Starting today, they really will get new prepaid plans. Much has stayed the same, but as always, the story is with what has changed.
Gone is the $2.99/day, 2 cents per minute, 2 cent text messages plan. I can't imagine this was too popular anyway. Those who use the phone every day would be on the hook for $90 per month before calling and texting. Yet Verizon has replaced this with a $3.99 per day plan, or $120 if you use it every day. The plus is in the benefits: unlimited calling, all day, every day, plus text messages for a penny. This will clearly work better if you don't use the phone every day.
The Prepaid Plus and Prepaid Core plans remain the same, charging $1.99 and $0.99 daily access fees, respectively. To match AT&T's basic plan, Verizon has added a Prepaid Basic option, which bills calls at 25 cents per minute and SMS at 20 cents each.
Verizon has also listed a number or prepaid packages, which you'll see listed below: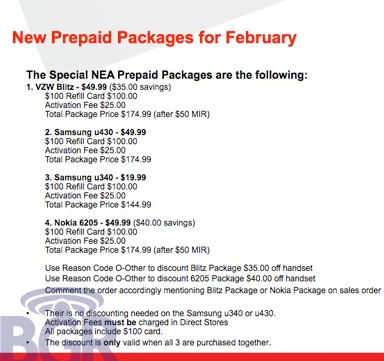 Not bad at all, especially for a major carrier. Will this cause anyone to switch to Verizon INpulse?