Poll
Loading ...
Total Call Mobile introduces prepaid unlimited plan
posted by Joe on August 31st, 2009 - 7:30 am | Total Call Mobile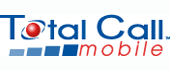 See that list to your left of our pay as you go cell phone providers? It seems like more and more of them have unlimited plans every day. (You might notice that there are a few more there this week than there were last, if you're the perceptive type.) The latest to unveil this type of plan is Total Call Mobile. Like a few of the more recently introduced unlimited plans, Total Call's will feature both a monthly tier and then a lesser offering. This lesser offering might be the difference prepaid makes with unlimited voice and text plans.
The 30-day unlimited plan covers voice calls plus both domestic and international text messaging, and costs $50, right about par with the rest of the industry. Total Call has also added a 15-day plan, which appropriately costs $25. Customers can then add on international calls for only the advertised rate. After you pay your $50 or $20, calls to over 250 locations worldwide will cost just two cents. There are varying rates to other countries as well.
As of this writing, the plans are not feature at Total Call's website, though you can check back there often, as I'm sure they'll add it soon.