Poll
Loading ...
The Top Five Best T-Mobile LG Phones
posted by Joe on March 21st, 2012 - 10:15 am | T-Mobile
The process of choosing a cell phone provider looks different for everybody. Network coverage, prices and fees, network speed, customer service quality, and data network reliability are all important considerations when deciding which provider is best suited to meet your very specific needs.
Even after choosing a provider, a whole new set of factors comes into play for picking a smartphone that integrates seamlessly into your daily life. For anyone who has narrowed their cell phone search down to T-Mobile LG phones, here are our top five picks:

T-Mobile LG DoublePlay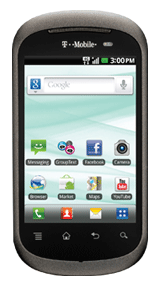 One of the most popular of T-Mobile LG phones, the DoublePlay is all about being socially connected. Although it looks standard from the outside, its name comes from its distinctive design, which incorporates an extra touch screen into the phone's slide out QWERTY keyboard.
The dual screens keep you more engaged than ever before, so you'll never miss an update. In order to provide the best possible experience, the DoublePlay operates at 4G speed. This allows uploading and downloading, tweeting, group texting, surfing the web, and streaming video to happen almost instantaneously, with no little-to-no lag-time involved.
If constant social connectivity isn't your thing, the DoublePlay comes preloaded with demos of SimCity™ Deluxe (see the video review of the app below), Tetris, and Bejeweled 2, so you can put both screens to use playing some of the most popular games on the Android Market.

And last but certainly not least, this phone can serve as a hub for your favorite songs and television shows, making all your favorite things available at your fingertips when you're on the go.

T-Mobile LG G2x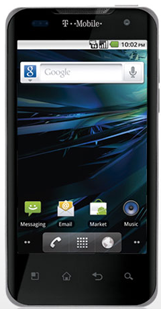 The T-Mobile G2x with Google is designed to be one of the strongest HD gaming phones on the market with rich 3D graphics that allow users to get immersed in the action like never before.
In many cases, the graphics on this brilliant 4-inch screen, although smaller, could rival those of some gaming consoles. For phone players, that means sharper action and more intensity on all the latest and greatest games.
But the G2x's lightning fast speed also comes in handy for everyday use. The phone is perfect for anyone wanting to maximize their smartphone for all its web surfing and video watching capabilities without spending minutes waiting for something to load.
The phone also offers an 8-megapixel camera and can record video in 1080p, making it a quality choice for capturing family videos or short video clips (although we wouldn't recommend it for recording anything professional).

T-Mobile myTouch or T-Mobile myTouch Q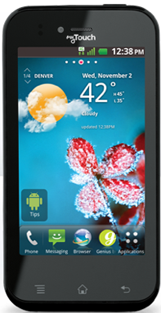 The myTouch and myTouch Q by LG are two of the easiest-to-use phones available from T-Mobile and are both great options for those looking to make a switch to their first smartphone.
A step-by-step guide walks you through the set up process, and video tutorials are available to answer any other questions. Once it's ready to go, the beautifully simple home screen design makes finding, adding, and organizing apps from the Android Market a breeze.
Both phones are Android-powered and come with a full touch-screen, but the difference is in the keyboard. The myTouch is operated solely on a touch-sensitive screen, while the myTouch Q comes with a slide out QWERTY keyboard.
Both feature a Genius Button that responds to simple voice commands by making calls, sending texts, and searching the web. Undoubtedly, either is a great choice whether you're looking for something simple as a first smartphone or something sleek and advanced to keep up with changing style and technology.

T-Mobile LG Optimus T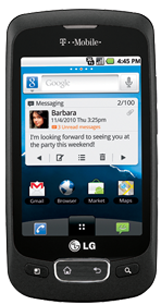 While not completely mind-blowing, the LG Optimus T is a great entry-level smartphone. It comes loaded with Android 2.2 and quite a few other quality features, while ringing up at half the price of similar phones.
It's also preloaded with Voice Actions for Android and equipped with voice dialing over Bluetooth, app storage on a memory card, a new camera viewfinder, app sharing, and Facebook integration.
And since it's an Android-powered phone, you'll have access to the web and thousands of Android Market apps from anywhere you find yourself.
For being one of the less expensive LG smartphones available from T-Mobile, the Optimus T doesn't compromise on fan-favorite features, such as Wi-Fi, 3G, and tethering and Wi-Fi hotspot capabilities. We definitely recommend the Optimus T as a phone that packs a huge punch for the price.

Related Posts

Leave a Reply
Featured Provider
Net 10 Prepaid

Our Rating