Poll
Loading ...
Nokia X2 coming to T-Mobile prepaid
posted by Joe on January 21st, 2011 - 10:03 am | T-Mobile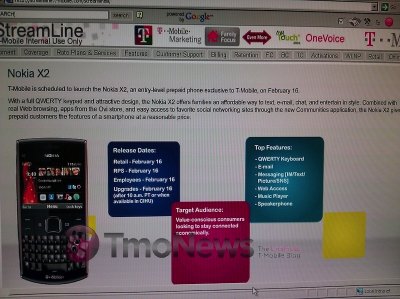 TMoNews.com found the above image, which describes a phone coming to T-Mobile prepaid on February 16. It's the Nokia X2, and, well, it appears as though messaging will be a cinch. There's no mention of a camera, which seems odd. It does have multimedia capabilities, though, which is nice — as is access to the Nokia Ovi store. Still, this is a pretty basic messaging device and little more. There's no pricing, but as long as it's under $100 it should be an attractive option for heavy texting T-Mobile customers.