Poll
Loading ...
New T-Mobile prepaid service set to launch
posted by Joe on December 6th, 2012 - 7:30 am | T-Mobile
It appears as though T-Mobile is going to take a page out of Sprint's book — kind of. Instead of offering its own branded prepaid wireless services, Sprint first bought Boost Mobile and then purchased Virgin Mobile. Sprint uses those brands, in addition to its slew of MVNOs, to represent its prepaid trade. T-Mobile has a few MVNOs, and it does offer its own prepaid services. But according to a recent report, they'll begin offering prepaid services under a different brand, even though they themselves own that brand. Welcome to Go Smart Mobile.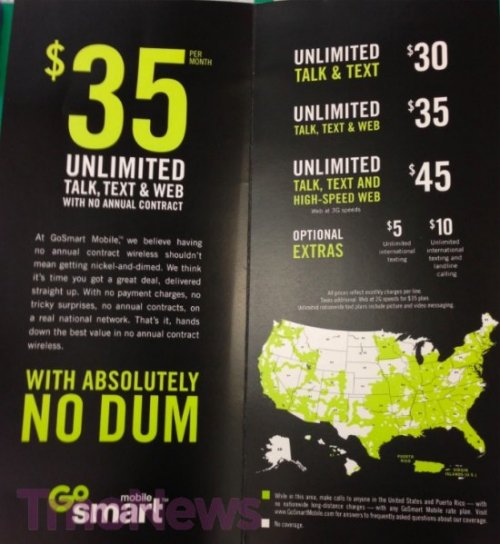 The report comes from TmoNews.com, a usually reliable source of advanced T-Mobile information. They have marketing material, which you see above, which lays out the offerings for Go Smart Mobile. As you can see it will be $30 for unlimited talk and text, $35 to add web, and $45 to add 3G data. International texting is available for $5 per month, and international landline calling (along with texting) is $10 extra. Those deals are certainly competitive within the current market, and in many ways undercut rivals such as Straight Talk.
To be clear, Go Smart Mobile, which hasn't officially launched yet, is owned by Deutsche Telekom, the principal owners of T-Mobile. That makes an interesting scenario, considering the pending merger with MetroPCS. Could MetroPCS and Go Smart Mobile be T-Mobile's Boost and Virgin? Or is there something much larger in the works?
We'll know a bit more when Go Smart Mobile launches. TmoNews suggests that the launch could happen this week, so stay tuned.