Poll
Loading ...
MVNO Ting might buy out your postpaid contract
posted by Joe on May 4th, 2012 - 9:23 am | Prepaid Services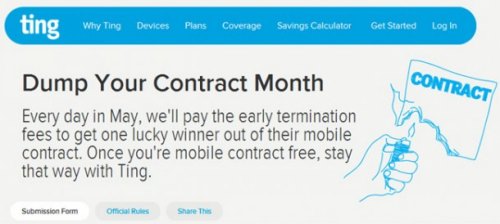 The above photo is a promotion from Ting, an MVNO of the Sprint network. Each day this month they're going to pick one person and let him or her out of a postpaid mobile phone contract. All you have to do is visit Ting's Dump Your Contract Month site and fill out the form. Each person is limited to one entry per day, and Ting will pay any early termination fee of up to $300. That's a pretty sweet deal. After reading the official rules, it doesn't appear that the winners are obligated to purchase Ting's prepaid wireless services. Though, if you're out of your contract you might consider it. They have some interesting deals.
Tings plans work on a sliding scale for minutes, messages, and data. That is, you can choose to get zero minutes and pay zero dollars per month, while stocking up on messages and megabytes. They do have a decent suggestion: 500 minutes, 4,000 messages, and 1GB of data for $50 per month*. But you can slide any of the variables around for higher or lower monthly bills. I'd love to go for the 100 minutes, 1,000 texts, and 1GB of data plan, which would cost under $40 per month.
*Every account starts with a $6 fee, and builds on that. It's an odd way to do it, but that's the way they've chosen to price their plans.
The only catch, if it can be considered one, is that you have to purchase a phone from Ting. They offer a bunch of smartphones, and some even range into the high end. For instance, they have the Motorola Photo and the Samsung Galaxy S II 4G. Unfortunately, because they're prepaid they cost plenty: $500 or more for the top-end phones. The cheapest phone, the LG Optimus S< goes for $190. That's the sacrifice you make for prepaid, though. (It would be nice if they factored phone price into their savings calculator, since it might help them convince people that spending $300 to $500 on a phone isn't the worst thing in the world.)
If you're looking to get out of your cell phone contract, this contest seems like a good a way as any. Even if you're already on prepaid, Ting has some interesting options in terms of plans and devices. Check out more at Ting.com.
Via IntoMobile.