Poll
Loading ...
Comparing Verizon and AT&T prepaid plans
posted by Joe on January 19th, 2010 - 8:30 am | Prepaid Services
As we learned at the end of last week, Verizon Wireless has added new prepaid calling plans that mimic their monthly calling plans. For $5 more than a postpaid plan, you can enjoy Verizon service on a prepaid basis. This gives Verizon two prepaid ends, their pay-as-you-go side which requires a daily access fee for most plans, and their new monthly plan side. Their biggest competitor, AT&T, has a similar setup. So let's see which company offers the better deal.
Pay-as-you-go
Both companies offer four tiers of pay-as-you-go, but for our purposes we're going to move AT&T's unlimited plan over to the prepaid monthly side, just for easier comparison.That means three for AT&T, four for Verizon.

The plans are pretty comparable, with Verizon adding in the Plus plan, though I'm not sure how many people use it. The biggest advantage is that in addition to 5 cents per minute, it also charges only 5 cents per text message.
Prepaid monthly
Now onto the monthly plans. Again, I'm moving AT&T's unlimited plan from pay-as-you-go to monthly for easier comparison.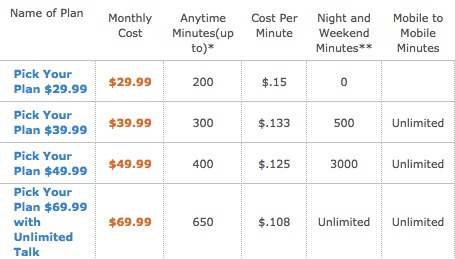 Again, imagine AT&T's plan having a $60 unlimited talk and text plan added onto that. That clearly beats Verizon's comparable plan, by $35. Otherwise, we can compare the voice-only pricing, since AT&T's Pick Your Plan deals also have an unlimited texting option for $20. Already AT&T has two plans cheaper than Verizon, which is good for customers who use their phones less frequently.
On the next level plan, Verizon wins with 50 more minutes for $5 cheaper. It wins even bigger on the top tier, as it offers 250 more minutes for $5 cheaper. Verizon's plans presumably include unlimited nights and weekends — they were created to mimic contract plans — or else that might change the analysis. AT&T's lesser plans do not include unlimited nights and weekends. The $49.99 plan comes with 3,000, and the $39.99 plan comes with 500.
For the more expensive plans, it looks like Verizon wins out. They offer more minutes for less money than AT&T's top tier plans. AT&T does offer two more monthly plans, which can be good for consumers who don't use their phones as much. On the pay-as-you-go side, Verizon's edge is its additional daily access plan. It's not the best, though, and otherwise the services are comparable.
So which will it be? Or will you go with a smaller carrier and leave the big dogs to serve their contract customers?