Poll
Loading ...
Analysts devalue prepaid users
posted by Stuart on June 18th, 2007 - 3:16 pm | Prepaid Services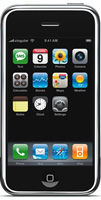 Like most in the industry, we're pretty amped for the release of the iPhone next week. Sure, we may not be getting one (we're faithful to our service provider, which is not and never will be AT&T), but it's still a neat-o gadget that may spawn a revolution in smart phones. We're sure to see at least a few imitators as early as this summer, and as time moves on, those imitations will get better and better. Plus, how long can the exclusive relationship with AT&T last, anyway?

We read a ton about the industry on a daily basis, and that includes nearly everything about the iPhone. We nearly grazed over an article titled "iPhone seen boosting AT&T, hurting Spring" because, well, duh. It is a cool phone; AT&T has it; Sprint does not; ergo, it's going to help AT&T and boost Sprint.
Boy were we glad we read it. Apparently, the reason the iPhone will give AT&T a boost is because of its astronomical very high price point. It's not every mobile subscriber that can afford $500 or $600 (plus a two-year contract extension). To analysts, that's the point. This will give AT&T more "post-paid" subscribers, who are considered better because they, you know, actually pay their bills.
"Wealthier individuals tend to pay monthly bills and are called post-paid subscribers. They are valued over customers who use prepay phone cards and tend to defect to other providers more easily."
Do analysts (and possibly AT&T themselves) really devalue prepaid subscribers like this? Do they not realize that we could all up and move to another major carrier, or at least an MVNO that isn't covered by the AT&T network?
So yeah, that's what they think of your dollar. Kinda sucks, doesn't it?
(There's plenty of other iPhone tidbits contained in this article, and we suggest you check it out. But we just wanted to give you the prepaid end of it.)

Related Posts

Leave a Reply
Featured Provider
Net 10 Prepaid

Our Rating